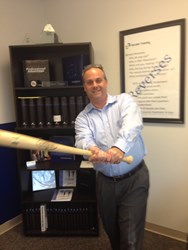 "Our goal is to be the best. Receiving these awards confirms our attention to win. When our clients see us employ what we are teaching them it reaffirms why they selected us to do their sales and management training."
Princeton, NJ (PRWEB) December 17, 2013
Sales Training firm AGT and Associates Inc., has been recognized as a Heavy-Hitter. This award was established by Sandler Training and presented to local Training Centers for achieving a high level of business development results over a consistent time period.
"This award is great accomplishment for our business," says David Trapani, Head of Sales for the firm and Certified Sandler Trainer. "It showcases what we do for our clients; we want them to grow their business and have high levels of consistent success. This award is a victory for our clients as well, it shows that we are in a position to help them effectively grow their business."
Recipients of this award receive an official full-size bat with their company information on it. "To me the bat is an obvious reward, we are heavy hitters. But I believe it means much more, to be the best you have to employ a consistent training methodology that reinforces the best behavior, attitude and technique. No different than a professional athlete, they practice, play the game and practice some more. Each day, they are coached on what they can improve. That's how we train our clients," added Trapani.
AGT and Associates Inc., earned the award after receiving multiple awards in the past. Sandler Training presents their awards on a trimester schedule.
About AGT and Associates Inc.
AGT & Associates, Inc. an authorized Sandler Sales Training in Princeton, NJ. AGT & Associates Inc. bring over 23 years of sales, marketing and management experience. Their focus is to help sales people and sales managers gain an edge to move their business to the next level. As a Certified Sandler Trainer, they teach their clients in the Sandler Success beliefs of Behavior, Attitude and Technique.
About Sandler Training
David H. Sandler developed the Sandler Selling System® methodology, an innovative, non-traditional selling system, in the late 1960s, and created the concept of 'reinforcement training' to support it. From that foundation, he went on to create a series of proven sales training programs for small- and mid-sized companies and Fortune 500 corporations, and founded the Sandler Sales Institute®.