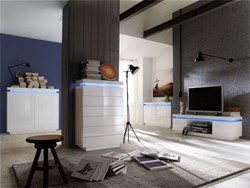 (PRWEB UK) 12 December 2013
Furniture In Fashion, a reputed online furniture company, is making life easier for the landlords, looking for proper furnishing items. This company is clearly helping Landlords to furnish their apartments and rent rooms in the most attractive manner, which can equally help them to rent or sell their properties. The magnificent range of classy furniture is well decorated with fine and skilled craftsmanship, making it a number one choice among masses. From sofas to dining table sets, this company makes it a point to offer you with nothing, but the best possible choice ever.
Renting places from landlords have become a vital step nowadays. This helps to save a lot of money in case you are planning to stay at a place for few years, without buying your own flat. To make the place attractive, landlords will sure love to decorate their place with best possible furniture, available at cost effective ranges. During such times, taking the help of noteworthy furniture company, Furniture In Fashion, can be one stop solution for all. Not only modern style, this company can offer positive traditional or contemporary, designer products, at lucrative discount ranges.
From the unique dining tables to interior design ideas, these tables and chairs are available in different shapes, sizes and designs, to meet the various requirement of the client. Manufactured using modern technicalities and premium quality raw materials, Furniture In Fashion offers different types of products, all with just a click of your mouse button. This company has a wide range of coat stands, shoe storage areas and Hallway furniture, which are shipped in different parts of the U.K. The additional free shipping services in the UK make this furniture store, a well deserved candidate in this competitive market.
Apart from special products for landlords, Furniture In Fashion can also provide their wide range of satisfied customers with a fantastic range of display cabinets, sideboards and more, to add more glamour to a lame dining space or area. The interesting segment of oak furniture and high gloss products comprises of everything, from TV stands to dining tables, coffee tables to dining table sets, and more. The side tables, available in dazzling designs, are something which cannot be ignored.
To make the online segment even more interesting, Furniture In Fashion is giving away Lilly Mirror Shoe Cabinet, entirely free of cost. The customers just need to share the link of this official website with their friends and invite them to take a look at the products, available here. By joining their services In Face Book, Furniture In Fashion can use their information for various marketing purposes. Moreover, they will not disclose any private information, unless agreed by the third party.
Defined as a UK-Based retail online store, Furniture In Fashion provides quality furniture from direct German based warehouse. It also has a vital showroom in Bolton, UK, for the betterment of the customers. This company is known for offering sofas, dining table products and other noteworthy furniture, at reasonable rates. It has gained immense name and popularity die to its successful customer services. For more information, please visit the official site at http://www.furnitureinfashion.net/.