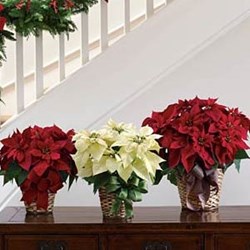 Providing consumers this tip sheet will help to demystify this age old rumor and put consumers at ease when considering buying a plant or receiving one as a gift
Baton Rouge, LA (PRWEB) December 16, 2013
Are poinsettias easy to care for? Can I re-bloom my plant? Are poinsettias really poisonous? What is the origin of the plant and why is it called the Christmas flower? The answer to these questions and many others can be found on the 1stinflowers.com website. In addition to selling flowers and gifts the company has been working over the past several years to create a depository of information.
"All very valid questions when it comes to making a decision to purchase a poinsettia" says Don Schultz, Sales Manager for 1st in Flowers! "The gifting of poinsettias is an important floral holiday tradition celebrated globally in a very big way. Besides the product pictures and descriptions, there are floral facts, meaning and care articles on the website to help educate customers and also provide additional information so they can make well informed decisions," he comments.
According to the 2013 USDA Floriculture Statistics Report over 34 million poinsettias are sold in a year. Poinsettias remain the highest selling potted flowering plant accounting for about one-quarter (23 percent) of sales of all flowering potted plants. California is the top producer with over 6 million pots grown, followed by North Carolina with 4.4 million pots sold, and Texas with about 3.7million. Florida and Ohio round out the top 5, each with over 3 million poinsettias sold.
"Customers from around the world come to the 1stinflowers.com website to place poinsettia orders for delivery in the US and abroad. On those occasions when there is a question, concern or someone simply wants some additional information, we want to make it readily accessible and available 24/7," says Don. "While 1st in Flowers! is certainly in the business of selling product, we pride ourselves on customer service and want the 1stinflowers.com website to also be a repository of floral facts, information and care instructions," exclaims Don.
Poinsettia plants have gotten a lot of bad press over the years. There is a persistent myth that poinsettias are toxic to small children and household pets. "Nothing could be further from the truth," Don laments. "Providing consumers this tip sheet will help to demystify this age old rumor and put consumers at ease when considering buying a plant or receiving one as a gift," he remarks. "With their beauty and dazzling array of colors they're a wonderful and affordable gift. This special holiday floral tradition is not only beautiful, it's safe."
Consumers interested in learning more about Poinsettia history and legend, care tips and toxicity myth and other interesting floral facts and traditions can visit the 1stinflowers.com Poinsettia Plant History, Care and Information page to download the tip sheet and share it with family and friends.
Delivering to the U.S. and the World, 1st in Flowers! is a 4th generation florist that has been serving customers for over 48 years in the real world, and since 1995 over the Internet. Through their affiliation with the world's two largest floral networks they have access to over 50,000 local florists worldwide serving over 160 countries. Customers can be confident their gift will arrive at its destination when they need it as they use their decades of experience to choose the best possible florist for delivery of every gift.