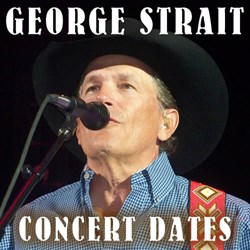 George Strait tickets for his Arlington concert stand as the most in demand while the show the week before in Foxborough stands as the cheapest of all Cowboy Rides Away shows.
Arlington, TX (PRWEB) December 12, 2013
The George Strait Concert Tour, called the Cowboy Rides Away Tour, plays a long series of shows concluding June 7, 2014 with a grand finale in Arlington Texas at AT&T stadium. Most performances take place in large 20,000 seat arenas with the last 3 at major stadiums with capacities around 80,000. While each and every George Strait Tour Date sold out, ticket sales in the resale market for the stadium shows paints a unique picture of each show. The first of the three stadium concerts stands as the major performance of the Bayou Country Fest in Baton Rouge Friday night May 23, 2014. Appearing with George at Tiger Stadium will be Reba McEntire and Chris Young. Fans can buy tickets for all sold out George Strait concert dates at GeorgeStraitConcertDates.com including premium seats and and floor tickets. Currently tickets for the George Strait Bayou Countryfest concert start at $72. This price stands in the same neighborhood at tickets for shows in Louisville, Portland or Tacoma.
The next two George Strait stadium concerts stand as stark bookends on the opposite end of the scale. People predict the George Strait Arlington concert, between Dallas and Fort Worth, should prove to be one of the most memorable country music events of the decade. Special guests expected to join George Strait on stage include Jason Aldean, Kenny Chesney, Eric Church, Ronnie Dunn, Vince Gill, Faith Hill, Alan Jackson, Miranda Lambert, Martina McBride and Lee Ann Womack. With a concert with all of those country music icons, that starts at 5pm to fit in all of the songs, one would expect a premium on tickets and prices for a pair of seats costing over $200.
On the cheap ticket side, Boston area fans can still find tickets as low as $27, cheaper than some parking passes for the George Strait Staples Center show in Los Angeles. With guest stars Tim McGraw & Faith Hill, the George Strait Foxborough concert represents the best bargain of the Cowboy Rides Away Tour.
GeorgeStraitConcertDates.com and Tickets-Cheapest.com operate in the ticket resale market, similar to sites like StubHub, which concert fans may be familiar with, only with cheaper prices than other such sites. Often Tickets-Cheapest.com sells the exact same seats as other resale sites. In an exact seat price comparison, Tickets-Cheapest.com proved its rights to the name by beating 25 out of 25 competitors for low-priced tickets. Give Financial Firebird's Cheap Tickets sites a try for great prices to see great performances.
Go on GeorgeStraitConcertDates.com or Tickets-Cheapest.com to buy tickets for the once in a lifetime Arlington concert or call our operators toll free at 855 805 5266 for personal help until 1am EST. Alternatively, enjoy low prices and great music by purchasing tickets to the Foxborough concert. For those looking for even more music, look into the three day Bayou Country Superfest with Luke Bryan and Jason Aldean headlining the nights after George Strait. Pick a show and attend a performance to remember forever.
About Financial Firebird, George Strait Concert Dates and Tickets Cheapest
Tickets-Cheapest.com represents the site to buy cheap tickets, for concerts or pro sports, with its sister sites, including the site to purchase Broadway tickets. All these pages are geared for consumers looking for low prices and are affiliated with the Financial Firebird Corporation Travel Group, standing among the top sites sought by travelers and people who enjoy concerts, pro sports and theater performances. Financial Firebird Corporation, established in 2000 and a proud BBB member, provides unbiased consumer information particularly involving personal unsecured debt or mortgages, software and marketing services. These sites for consumers to buy tickets online operate in the resale market and maintain no relationship with the venues or performers. The resale ticket market allows consumers access to popular events once the box office has sold out or to buy premium seats when the venue no longer offers any inventory. Within the group of these secondary market ticket services, the Financial Firebird owned ticket sites offer lower prices than competitors. Find the sites at GeorgeStraitConcertDates.com and Tickets-Cheapest.com.