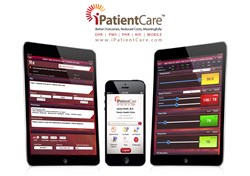 miPatientCare App is fast and intuitive. The design is organized in such a manner that no professional training is required. With this new mobile app, I have full EHR utility at my fingertips, said Charles Godoshian, MD, a delighted iPatientCare EHR user.
Woodbridge, NJ (PRWEB) December 12, 2013
iPatientCare, Inc., a pioneer in mHealth and cloud-based ambulatory EHR and integrated Practice Management solutions, announced iPatientCare EHR on the native Apple platform is one of the most downloaded iPad based EHR application for the physicians and other healthcare providers, and establishes a strong leadership in the mHealth solution market segment.
The miPatientCare (pronounced as "my Patient Care", representing mobile iPatientCare) EHR is a native iPad based full-featured cloud-based EHR, and is meant to provide highly mobile healthcare providers with anywhere, anytime access to patient's clinical records. Some of the important features identified by the users of miPatientCare app are its great customization and personalization. With a carefully designed workflow and intuitive touch-screen based user interface, miPatientCare allows clinicians to add or update clinical information, review an appointment list, quickly access patient summary information with drill-down access to details when necessary, capture complete patient encounters and document a visit note, and ePrescribe with drug interaction checking and electronic transmission to pharmacies.
"I have been an iPatientCare EHR user over one year. I was able to meet meaningful use after the first 3 months of use in 2012. Recently I attended iPatientCare's National User Conference, and learned about the newly launched miPatientCare app for iPad. This program is exactly what I was hoping for. It is fast and intuitive. Perfect when quickly moving from room to room during a busy afternoon. It also prepares the desktop application for final touches. The design is organized in such a manner that no professional training is required. I could even document my consultation notes while doing hospital rounds. With this new mobile app, I have full EHR utility at my fingertips whenever needed," said Charles Godoshian, MD, a delighted iPatientCare EHR user.
With "usability" becoming a priority for physicians in using Meaningful Use stage 2 certified EHR at the point-of-care, miPatientCare has been on top 6 positions in league of medical applications available on the APP Store. "miPatientCare EHR is designed ground-up to work natively on iPad and iPad mini. It would be a physician's companion for delivering better outcomes through all stages of the Meaningful Use. We are proud to see Apple loyal physicians switching to miPatientCare and taking it to the top position by downloading this app the most on the App Store," commented Kedar Mehta, CTO, iPatientCare, Inc.
To download miPatientCare, click here.
About iPatientCare:
iPatientCare, Inc. is a privately held medical informatics company based at Woodbridge, New Jersey. The company is known for its pioneering contribution to mHealth and Cloud based unified product suite that include Electronic Health/Medical Record and integrated Practice Management/Billing System, Patient Portal/PHR, Health Information Exchange (HIE), and mobile point-of-care solutions that serve the ambulatory, acute/sub acute, emergency and home health market segments.
iPatientCare EHR 2014 (2.0) has received 2014 Edition Ambulatory Complete EHR certification by ICSA Labs, an Office of the National Coordinator-Authorized Certification Body (ONC-ACB), in accordance with the applicable eligible professional certification criteria adopted by the Secretary of Health and Human Services (HHS).
Full certification details can be found at ONC Certified Health IT Product List.
The ONC 2014 Edition criteria support both Stage 1 and 2 Meaningful Use measures required to qualify eligible providers and hospitals for funding under the American Recovery and Reinvestment Act (ARRA).
The company has won numerous awards for its EHR technology and is recognized as an innovator in the field, being a pioneer to offer an EHR technology on a handheld device, an innovative First Responder technology to the US Army for its Theatre Medical Information System, the first to offer a Cloud based EHR product. iPatientCare is recognized as one of the best EHR and Integrated PM System for small and medium sized physicians' offices; has been awarded most number of industry Awards; and has been recognized as a preferred/MU partner by numerous Regional Extension Centers (REC), hospitals/health systems, and academies.
Visit http://www.iPatientCare.com for more information.