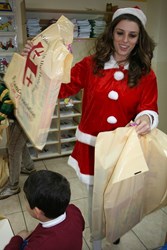 Some 900 children living in Bethlehem received gifts.
Indianapolis, IN (PRWEB) December 12, 2013
Despite living in a virtual prison, hundreds of children celebrated Christmas last week in Bethlehem with gifts, music, a giant lighted tree, and the official proclamation of Advent by the Franciscan Custos of the Holy Land.
In a special musical celebration sponsored by the Franciscan Foundation for the Holy Land (FFHL), some 900 children living in Bethlehem received gifts, donned festive costumes, and blended their voices in popular Christmas songs.
Funding for the gift-giving event during the annual children's program was the brainchild several years ago of Mrs. Faith Libbe, an FFHL regional director from Casselberry, Florida. Each year Mrs. Libbe tours central Florida raising funds for the children's Christmas project.
"To be able to give a gift that brings joy into a little child's life at Christmastime and to see the smiles on their precious faces, makes the effort of raising these funds a true labor of love," Mrs. Libbe said.
Among the recipients of the program are residents of the Franciscan Boys Home, an institution founded in 2007 by the Custody of the Holy Land to care for boys marginalized by the extreme economic conditions that cause tenuous family situations living in Bethlehem.
"Seeing the beaming eyes of these little children as they open their presents is truly a gift from, God," said Fr. Marwan Di'des, director of the home.
The official proclamation of Advent began with the arrival of Fr. Pierbattista Pizzaballa, Custos of the Holy Land, at the Basilica of the Nativity in Bethlehem, where he entered the Grotto of the Nativity and lit the first Advent candle. The flame from the candle was then used to light the candles of other churches throughout the Holy Land.
"Solemnity and traditions are important here," Fr. Pizzaballa said, "because newness always brings freshness. But we must not forget we are what we were," he said, adding, "having ancient celebrations does not mean we celebrate the past. It means reminding everyone who we are and where we come from."
A 50-foot high Christmas tree in Manger Square, decorated with 12,000 lights and more than 4,000 ornaments, announced that the world awaits the birth of Christ in the place where He was born.
Celebrating Advent and the Christmas season is particularly special because of severe travel and work restrictions imposed on Palestinian Christians living in Bethlehem. The city is completely cut off from the rest of the world by a 30-foot high containment wall built by the Israeli government.