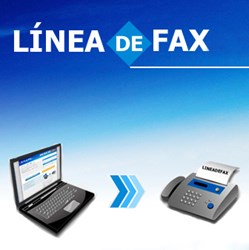 Lineadefax.es – new local Spanish Internet fax service provider
New York, USA (PRWEB) December 13, 2013
Lineadefax is selling monthly "all-inclusive" offers with carry-forward credits for fax sending included, so that both big corporate and small enterprises can try and use the fax service without any long term commitment and at very low prices. At necessity, user can purchase additional faxing credit that is valid for the whole period of the subscription. The fax reception is free and unlimited for all plans.
Besides that, all offers included a local Spanish fax number. Subscribers can either choose to obtain a fax number in the region they do business or they can chose to keep their existing number by using the fax number portability service which is provided for free.
The new fax service allows its customers to send and receive faxes both from the web interface and from their email account (Outlook, Thunderbird, Gmail, Yahoo, etc.) which was used at account creation.
Users have also the possibility to personalize their cover page and to send professional faxes worldwide.
Another valuable feature provided by Lineadefax is fax indexing and Optical Character Recognition of the received faxes. This feature identifies all the textual content of a fax (which is actually an image file) and converts it to a selectable text. This gives business professionals the possibility to search easily their faxes on their PC using relevant keywords from the fax content they are searching for and to copy, paste and reuse the fax content.
"Starting from today, every Spanish company can benefit from Lineadefax.es Internet low cost fax service without long term engagement and without any software or hardware installation. We specially created "all-inclusive" monthly packages suitable for any fax usage" said Vladimir Popesco the CEO of POPFAX, the company providing Lineadefax.