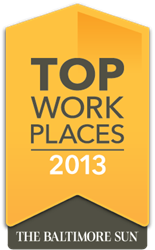 We have some of the best employees that go above and beyond to make our office a great place to work every day.
Columbia, MD (PRWEB) December 11, 2013
Nemetschek Vectorworks, Inc., a provider of intuitive, powerful and practical CAD and Building Information Modeling (BIM) software solutions, is pleased to announce that it has been selected as one of Baltimore's 100 Top Workplaces for 2013 by The Baltimore Sun.
"We're thrilled to be named to The Baltimore Sun Top Workplaces for 2013," said Sean Flaherty, CEO of Nemetschek Vectorworks, Inc. "We have some of the best employees that go above and beyond to make our office a great place to work every day. Being named to the Top Workplaces only reiterates that we have much to look forward to in the future."
As an organization, Nemetschek Vectorworks is committed to its social responsibility by supporting the practice of "reduce, re-use, and recycle," and participating in community programs such as the Adopt-A-Road program, annual food drives, PLANET's Renewal and Remembrance Service, DC General's Homeless Children's Playtime Project and American Red Cross Blood Drives.
In addition, Nemetschek Vectorworks supports its employees by offering full medical and 401K benefits packages, providing opportunities for professional growth through a Tuition Reimbursement Plan and an overall wellness through their Wellness Committee, a group of employees who plan ways to improve the health, well-being, and quality of life for all employees and their families. Employees are also offered discount programs for things like the Columbia Association, AT&T Wireless, Great Wolf Lodge, movie tickets and more. Nemetschek Vectorworks also frequently hosts events and activities year-round, such as an employee and family event at an Orioles baseball game at Camden Yards, annual holiday and product launch parties, ice cream socials, cookouts, potlucks and Halloween costume contests.
The Top Workplaces are determined solely on employee feedback conducted through a survey by WorkplaceDynamics, LLP, a leading research firm on organizational health and employee engagement.
The Baltimore Sun published the complete list of Top Workplaces on Sunday, December 8. For more information about the Baltimore Sun Top Workplaces list, please visit http://www.baltimoresun.com/business/jobs/topworkplaces2013/.
About Nemetschek Vectorworks, Inc.
Nemetschek Vectorworks, Inc. is a wholly owned subsidiary of the Nemetschek Group and has been developing software since 1985. The Vectorworks line of software products provides professional design solutions for more than 450,000 designers in the AEC, entertainment and landscape design industries. With a tradition of designing flexible, versatile, intuitive and affordable CAD and BIM solutions, Nemetschek Vectorworks continues to be a global leader in 3D design technologies. For more information, visit http://www.vectorworks.net.
###