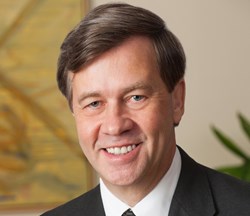 "I am excited to be a part of a firm and a team that offers a combination of successful representation and lower rate structure which presents an outstanding value proposition for our clients."
Washington, DC (PRWEB) December 12, 2013
The law firm of Shulman, Rogers, Gandal, Pordy & Ecker (Shulman Rogers) is pleased to announce that Russell Duncan, a former senior trial attorney for the U.S. Department of Justice (DOJ), the Securities and Exchange Commission (SEC) and the Public Company Accounting Oversight Board (PCAOB), has joined the firm as a partner in its Securities Enforcement, White Collar Crime and Government Investigations practice.
"Russell Duncan is an outstanding litigator and adds significant experience to our white collar and regulatory enforcement defense practice," said Jacob Frenkel, chair of the Securities Enforcement, White Collar Crime and Government Investigations practice. "His extensive knowledge of securities and criminal law and courtroom mastery expands our capabilities to provide our clients with superb legal insight to navigate the complicated terrain of regulatory investigations and criminal prosecutions."
Mr. Duncan is one of the few attorneys in the U.S. who has successfully tried to jury verdict or final judgment federal criminal and civil cases both for and against the DOJ and the SEC. While serving as an Assistant U. S. Attorney in Washington, DC, Mr. Duncan tried cases and supervised investigations involving wire fraud, financial fraud, money laundering, bribery, extortion, and RICO violations. As an Assistant Chief Litigation Counsel for the SEC, Mr. Duncan had principal responsibility for matters involving the Foreign Corrupt Practices Act (FCPA), financial fraud, insider trading, accounting fraud, market manipulation, Investment Adviser Act violations, books and records violations, trading suspensions, and unregistered securities offerings. As Assistant Director of Enforcement at the PCAOB, Mr. Duncan had supervisory and lead litigation responsibility in investigations and cases involving auditor conduct.
Mr. Duncan said he was attracted to Shulman Rogers by its attorneys' commitment to devote their talents and experience to achieving the best outcomes for their clients, rather than just managing a portfolio of cases. "Shulman Rogers' economic structure is different from most firms. Our more senior experienced attorneys are actively engaged in each matter rather than just contributing a small portion of their time," said Mr. Duncan. "I am excited to be a part of a firm and a team that offers a combination of successful representation and lower rate structure which presents an outstanding value proposition for our clients."
Mr. Duncan's practice includes defending public company CEOs, CFOs, general counsels, directors and auditors during government investigations and civil and criminal litigation. He also represents public companies, hedge funds, investment advisers, auditing firms and their employees in government and regulatory investigations and private civil litigation. In addition, Mr. Duncan represents clients in commercial litigation and government contracts matters such as bid protests, whistleblower suits, rate mischarging suits brought by the government, debarment proceedings, and federal court litigation. Mr. Duncan also represents companies, officers, and directors in civil and criminal investigations arising out of government contracts and conducts internal investigations.
The Securities Enforcement, White Collar Crime and Government Investigations practice is comprised of highly regarded attorneys who have served in both investigative and trial positions at the Department of Justice, SEC and other government authorities including: Jacob Frenkel, practice chair, a former state and federal criminal prosecutor, and former SEC Enforcement attorney; and Paul Huey-Burns, ranked by Chambers USA as one of the nation's leading securities enforcement defense attorneys.
About Shulman, Rogers, Gandal, Pordy & Ecker
Shulman, Rogers, Gandal, Pordy & Ecker, PA is the largest independent law firm in the Washington Metropolitan suburbs. Founded in 1972, the firm and its attorneys and staff are committed to client service, a relentless focus on problem solving and an underlying compassion for its clients and community. The firm has a general practice with experience ranging from corporate law, to real estate, to litigation to estate planning and family law. Additional information on Shulman, Rogers, Gandal, Pordy & Ecker and its practice areas is available at http://www.shulmanrogers.com.
###