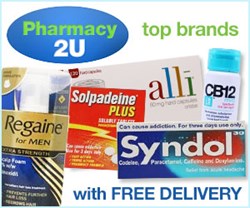 It's a really exciting time for MoreNiche to have a merchant like Pharmacy2U on board; opening up the doors to many new opportunities
(PRWEB) December 12, 2013
Pharmacy2U delivers medicines and a wide range of over-the-counter health care products to people in their homes. This provides a service for people who are unable to leave the house to pick up a product, or for customers who would prefer to order their items online. 98% of orders are dispatched the same day which ensures a fast delivery and customers are not left waiting for their orders.
Pharmacy2U also provides an online doctor service which involves an online consultation with a registered UK GP; this service is currently receiving the highest growth within Pharmacy2U and a TV campaign is planned for the future as well as some offline PR in January.
Affiliates promoting Pharmacy2U can expect to receive 10% commission which is extremely competitive for such an established brand with huge popularity and perfect TrustPilot reviews. In addition to this, £5 commission is generated for every converting online doctor service lead. The exceptionally good reviews on TrustPilot demonstrate that Pharmacy2U provide industry leading customer service for their users which is extremely comforting for a potential new customer.
This program will be most successful for affiliates who already have an established healthcare website or even a general health and well-being website. There is already widespread brand awareness for this merchant and the added bonus of international shipping allows for promotions to most countries. There will be regular incentives attached to this program as well as other benefits such as voucher codes and high converting banners.
MoreNiche, the network running this new affiliate program is a health and beauty specialist affiliate network established since 2002. MoreNiche provide personal mentors and product specific affiliate managers, who are always on hand to help publishers improve conversions and deliver more sales. The unique relationship that the network builds with affiliates ensures the success of each and every program that joins MoreNiche.
It's a really exciting time for MoreNiche to have a merchant like Pharmacy2U on board; opening up the doors to many new opportunities and offering affiliates a wider variety of merchant types.
Join the Pharmacy2U affiliate program on MoreNiche now.