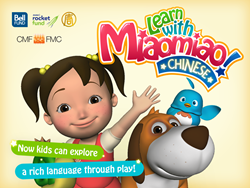 An innovative app that is accessible to children as young as two, teaching them words and lessons in a bilingual (English/Mandarin) environment.
Toronto (PRWEB) December 12, 2013
A new app that has just become available on the iPad adds language learning to fun lessons on animals, people, and nature. With interactive animations and the same lovable characters from the Miaomiao TV show, kids learn both Chinese and English words while they play with a young girl named Miaomiao ("Meow-Meow") and her pet dog Doudou ("Doh-Doh").
Learn with Miaomiao: Chinese has an innovative feature that builds on the pictorial origin of many Chinese characters (the written form of the words). Children tap on the words to see them come to life as animated objects that look much like the words they represent.
"Some people don't realize how many Chinese characters are based on pictures, but it is actually an age-old way for Chinese children to learn to read," says Leo Yu He, the producer for all the Miaomiao games and television programs.
"We've built on this this traditional concept and added in all the possibilities that the iOS touch interface provides to create something entirely new, says co-producer Jason Loftus. "When people think about learning a language like Chinese, it might sound daunting. But we've created an experience that is not only extremely fun and engaging, kids and even their parents can quickly learn some useful Chinese vocabulary."
Even with some features of the app still to come—a learn-to-write section will be added in January—reviewers and players are already giving it high marks. The team at iHeartThisApp.com calls it "a wonderful educational app," and the reviewer at FunEducationalApps.com says "I was completely enthralled with it." "Four Stars. Excellent," raves BestAppsforKids.com.
Learn with Miaomiao: Chinese is an open game that lets children explore and interact freely. There are no levels or scoring, and the learning happens naturally through interaction. 3-D animations and simple, inviting design enhance the learning environment and engagement.
Studies have shown that learning Chinese develops unique cognitive skills and enhances musical ability in children because of its tonal sounds, and that language learning in general can help children's ability to learn across all subjects. "This is an app for everyone, not just students of Chinese. All kids can enjoy it, and the benefits are so broad that all parents should have an interest in it," concludes Leo Yu He.
With a multicultural team and inspirations drawn from Chinese culture, Mark Animation's projects reflect the increasing diversity of audiences. Mark Animation is both a television production company and a game studio. The group was recognized among 20 top Canadian independent studios featured during the 2013 Game Developers Conference in San Francisco, and they were featured in the "Best of Canada" showcase at MIPJunior 2013 in Cannes France for its television and digital cross-media property Shuyan the Kung Fu Princess.
Learn With Miaomiao: Chinese is the first app in the Learn With Miaomiao series, with the others coming out in 2014. Additionally, Learn With Miaomiao: Chinese will be expanded in January 2014 to include a section that teaches children how to write Chinese characters through an in-app game. It will also be available on the iPhone in 2014.
All the Miaomiao properties are copyright Apex Media Corp., distributed by Mark Animation in partnership with New Tang Dynasty Television and created with the support of Canada Media Fund, Bell Broadcast and New Media Fund, and Shaw Rocket Fund.
The television episodes are broadcast exclusively on NTD Television, but episodes are available for online viewing at Kidobi.com, which won the iKids award for Best Kids Portal in 2012. A Russian distributor will also be releasing a translated version of the series in 2014.
Contact Jared Pearman at 613-325-6274 or jared (at) markanimation (dot) com for more information and promotional codes to download the app. Further details available at http://www.learnwithmiaomiao.com.