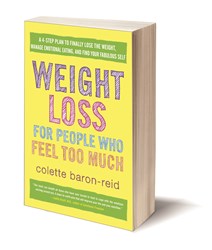 New York, NY (PRWEB) December 11, 2013
Best-selling author Colette Baron-Reid's ground-breaking new paperback book and simple eight-week program, Weight Loss for People Who Feel Too Much (December 31, 2013), reveals a success plan for highly intuitive and empathic people who may be overweight because of their big, beautiful hearts.
Some people take on the weight of the world and the endless cares and needs of others, and their eating may be a detour away from emotional stress that needs to be managed. Based on her work with thousands of clients around the world and the cutting-edge science and research behind the mind-body connection, Colette has learned that it's people's feelings that keep them fat.
"For women who feel too much, learning to love and accept themselves and to find ways to manage their emotions is the key," says Colette. "It's not about the food they're eating. They can be living on broccoli and working out like fiends, and they will still not drop the weight. They have to learn to be at peace with themselves elves and their bodies and then the weight comes off with effortless ease."
Discover:
1. How to shut up noisy food. Learn to eat simply and healthfully.
2. How fear becomes fat. Learn how to focus thoughts for success.
3. Why frustration ends up on belly and thighs. Uncover new ways to find joy and relaxation.
4. How to connect to inner wisdom. Become radically honest about what your body needs and what you need.
About the Author
Colette Baron-Reid is an internationally acclaimed intuition expert, best-selling inspirational author published in 27 languages, key note speaker, artist, entrepreneur and visionary. Voted into the Watkins list as one of the top 100 most spiritually influential people in 2013, Colette delivers her message of perspective and hope with her trademarked compassionate candor and hilarious infectious personality. Her laser sharp intuitive insight has garnered a worldwide client base spanning 29 countries. She is the CEO and founder of The Invision Project and The Invision Lab offering advisory services for select influencers and education for coaches in her trademarked energy psychology process IN-Vizion®. For more information, visit: http://www.colettebaronreid.com. Media Reel: http://www.youtube.com/watch?v=jb2kDMWQmf8.
About the Publisher
An imprint of Random House, Harmony Books is dedicated to helping readers achieve personal transformation and well-being in all facets of their lives. Publishing books that offer unique approaches to health, relationships, self-improvement, and spirituality, Harmony guides readers to become their best selves both inside and out. Bestselling books and authors include Master Your Metabolism by Jillian Michaels, Change Your Brain, Change Your Body by Daniel G. Amen, M.D., The Dukan Diet, Deepak Chopra, The 4-Hour Workweek and The 4-Hour Body by Timothy Ferriss, eighteen bestsellers with Suzanne Somers, Happier at Home by Gretchen Rubin, and multiple books with the Dalai Lama.