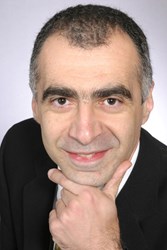 Niko Henschen, CEO of Across Systems GmbH: "We are pleased to have Nancy Cardone with us ‒ an industry expert with long-standing experience in the field of business development."
Karlsbad, Germany (PRWEB) December 16, 2013
To further expand the international market presence of Across, Nancy Cardone recently joined the team as Business Development Manager. Thus, Across customers in the USA will benefit from intensified customer care.
The Across Language Server is the central software platform for all corporate language resources and translation processes. A translation memory and terminology system that helps facilitate collaboration between translators and language service providers for end customers. Across is already being used by various US companies and supported by the US office in Glendale, CA. Nancy Cardone will service existing and prospective customers from Pittsburgh, PA providing consulting services with a wider geographic coverage and shorter response times.
"We would like to offer our US customers as well comprehensive on-site care through a dedicated contact. Therefore, we are pleased to have Nancy Cardone with us ‒ an industry expert with long-standing experience in the field of business development. She will assist us in reinforcing our market position and further increasing the recognition of the Across brand in the USA in close collaboration with the colleagues in Germany," explains Niko Henschen, CEO of Across Systems GmbH.
Thanks to her 12+ years of professional experience, Nancy Cardone is well acquainted with the needs of the sector. The range of functions she performed in recent years includes positions such as business development manager and project manager at various language service providers.
---
About Across Systems
Across, based in Karlsbad, Germany, and in Glendale, CA, USA, is the manufacturer of the Across Language Server, a market-leading software platform for all corporate language resources and translation processes. Within a very short time, the use of Across can increase the translation quality and transparency, while reducing the workload and process costs.
The Across Language Server can be used for EN 15038:2006-compliant translation services. As Across Systems GmbH is a certified Microsoft partner, the successful introduction of Microsoft technologies is guaranteed. Thanks to the Software Development Kit (SDK), Across can easily be integrated in IT environments. Integration support is available from the company's Business Services & Support department and from renowned system integrators and technology partners.
Within the scope of its product development, Across collaborates with international universities and academies and is coached by a scientific advisory board. For many years, Across has also been focusing on cooperative partnerships with renowned technology companies and language service providers.
Customers of Across (extract): 1&1 Internet AG, Allianz Versicherungs AG, HypoVereinsbank, Miele, SMA Solar Technology AG, ThyssenKrupp, etc.
Further information about Across Systems GmbH is available at http://www.across.net.