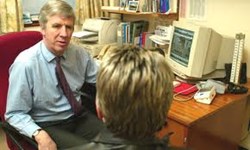 Patients shouldn't be in a position where they are have to return to their doctor up to three times, before their concerns warrant a specialist referral.
Bolton, UK (PRWEB UK) 16 December 2013
Following the release of a recent report, it is believed that regional divides have seen the creation of disparity across cancer care, causing those living in certain areas of the UK to wait over two weeks to see a cancer specialist (2).
According to the report, the observations have indicated that thousands of people are facing longer waiting times, than those who live in different areas (2).
The inequality was highlighted by a government report, examining the quality of cancer care across Britain. As a result, MP's were suitably unnerved by the high figures, which reflected delayed treatment, and the variations in accessibility to cancer drugs and therapies (2).
Commenting on the reports, Ms Williams, from medical negligence solicitors, Asons, said:
"Needless to say, it is a terrible shame that some patients are facing the most challenging time of their life with sub-standard treatment, simply because of where they live.
"I hope that these revelations encourage the NHS to put a system into place, where there is a uniform level of care being provided despite the patient's location. Much like the report stated, whether or not a person is referred to a specialist, shouldn't be dependent on the county in which they live. While in this case we are discussing cancer patients, I firmly believe this should be a rule for any medical issue."
According to NHS guidelines, 95% of patients who present a GP with symptoms synonymous with cancer, should be referred to a cancer specialist, within two weeks of their initial appointment. However, figures released by the NHS showed that only 46% of patients diagnosed with cancer had received an urgent referral from their GP (2).
As detailed in the previous report released regarding cancer patient experience, over a quarter of people diagnosed with cancer were forced to see their GP over three times before being referred to a specialist (1). In a recent European investigation, it was found that England had one of the worst cancer survival rates, despite having a health service envied for its resources and expertise. (2).
Continuing, Ms Williams said:
"With the prevalence of cancer in modern society, I am concerned that it can take so long for a diagnosis to be made. Patients shouldn't be in a position where they are have to return to their doctor up to three times, before their concerns warrant a specialist referral. Early diagnosis is essential with cancer, and where every moment counts, delayed treatment shouldn't be tolerated.
"MP's have suggested that we need to find ways to encourage GP's to diagnose cancer faster, giving everyone the same access to vital treatments. While such incentives shouldn't be necessary, if it improve the standard of patient care, potentially saving lives, then such measures should be considered."
Patients that may have suffered due to an incorrect or delayed diagnosis of cancer, may be eligible to receive compensation. To find out more visit http://www.asons.co.uk or phone 01204 521 133 to speak to a specialist solicitor.
(1) Second National Cancer Patient Experience Survey, https://www.gov.uk/government/publications/second-national-cancer-patient-experience-survey
(2) All Party Parliamentary Group on Cancer, Cancer across the domains, Pages 15-19
http://www.macmillan.org.uk/Documents/GetInvolved/Campaigns/Campaigns/APPG/BritainAgainstCancer2013/BritainAgainstCancer-CancerAcrossDomains-reportDec2013.pdf

About Asons Solicitors:
Asons Solicitors is a Bolton-based law practice that specialises in personal injury and industrial disease claims. Founded by brothers Imran Akram and Kamran Akram, Asons Solicitors has developed to become a young and dynamic law firm that delivers practical solutions to clients in times of difficulty. Their continued focus on their staff has seen them awarded with the Investors in People "Gold Award"; which is reflected in the professional and personable approach they take in working with clients. They strive to grow and to develop, and their supportiveness and attention to detail ensures that their clients use them time and again.
All views expressed in this article are those of the individual and do not necessarily represent the beliefs of the firm.
For further information contact:
Email: info(at)asons(dot)co(dot)uk
Website: http://www.asons.co.uk