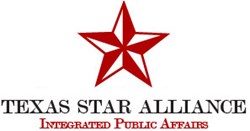 'Chris' political savvy and in-depth knowledge of the energy industry makes this spot on the Who's Who list a well-earned honor.' John Pitts, Managing Partner, Texas Star Alliance
Austin, Texas (PRWEB) December 11, 2013
Texas Star Alliance principal Chris Hosek has been recognized on the Austin Business Journal's 2013 "Who's Who in Energy." The annual list distinguishes key players across a spectrum of energy industries in eight major journal markets across the country.
"Chris' political savvy and in-depth knowledge of the energy industry makes this spot on the Who's Who list a well-earned honor," said John Pitts, managing partner of the Texas Star Alliance. "Above all, his unwavering professionalism and personal integrity make him a valuable asset to our firm and a trusted advisor to his roster of national energy clients."
Hosek specializes in direct lobbying and state agency relations specifically relating to the Texas energy industry. He has experience with a broad range of legislative issues and policy initiatives include a specific expertise in the energy, natural resources, and transportation sectors. His clients range from innovative Texas water recyclers to multinational energy companies with operations throughout Texas.
The Austin Business Journal will highlight the individual accomplishments of its honorees on its website over the next several weeks in conjunction with eight journal markets, including Dallas, Houston, San Antonio, Denver, Pittsburgh, St. Louis, and Columbus, Ohio. The list includes 17 local and 800 national noted leaders representing different facets of the energy industry, including exploration, production, regulation, distribution, engineering, finance, education, law and more. Individuals are selected for inclusion through internal research, industry outreach, and an open-nomination process conducted by the business journals of their respective cities.
About Texas Star Alliance
Based in Austin, Texas Star Alliance is a bipartisan public policy firm specializing in direct lobbying, government agency relations, administrative rule-making, business development, and strategic communications across a wide range of industries. We address our clients' complex public policy challenges with sophisticated, integrated services that are more effective – in outcomes and costs – than traditional methods.