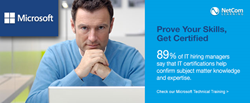 New York, NY (PRWEB) December 12, 2013
It is the time of gift giving and NetCom Learning is in on the action with a gift of a free Microsoft exam voucher when you register for the latest in Microsoft certifications the Server Virtualization with Hyper-V and System Center course. The offer is good for all students registering for the course through March 31, 2014. Experienced information professionals who want to increase their skills and learn how to deploy and manage a Microsoft Server Virtualization infrastructure in an enterprise environment can sign up for the course and save money on test registration. In addition to the free exam voucher registered students also have access to the Free Second Shot promotion offered by Microsoft in case you need to redo the test to be successful. NetCom Learning's value proposition allows registrants for the new Virtualization training the opportunity to be among the first information technology professionals to get this certification while saving money. Registrants also have the satisfaction of knowing that with every course registration NetCom Learning is helping to provide needy children with an education through the Love of Learning Program in partnership with BRAC USA.
"NetCom Learning is pleased to be able to offer this exam voucher with registration to Microsoft's new virtualization coursework as an added value to the importance of obtaining training in this important IT area of virtualization infrastructure management," said Russell Sarder, CEO of NetCom Learning.
Microsoft's new Server Virtualization with Windows Server with Windows Server 2012 R2 Hyper-V and System Center 2012 R2 Virtual Machine Manager is a five day course that gives you the hands on training you need to prepare for the Microsoft Specialist exam 74-409: Server Virtualization with Windows Server Hyper-V and System Center. In the course you will learn to configure, manage and maintain Windows Server 2012 R2 Hyper-V and System Center 2012 R2 Virtual Machine Manager including both networking and storage devices. The course is aimed at experienced information technology professionals who work in supporting medium to large enterprises. Students considering the course should be experienced in administering Windows Server 2012. IT decision makers who determine virtualization products implementation in data centers may also be interested in this course. The coursework is available as a classroom course, Online Anytime and as an intensive boot camp experience. NetCom Learning recommends the following courses as prerequisites:
• 20410: Installing and Configuring Windows Server 2012

20410: Installing and Configuring Windows Server 2012 Boot Camp
20411: Administering Windows Server 2012
20411: Administering Windows Server 2012 Boot Camp
20412: Configuring Advanced Windows Server 2012 Services
20412: Configuring Advanced Windows Server 2012 Services Boot Camp
Why take your technical training with NetCom Learning?
NetCom Learning was chosen as Microsoft's Learning Partner of the Year from a pool of 1400 training companies. The leader in IT training provides the most innovative learning solutions including standard, boot camp, accelerated and customized training, and these offerings are available at NetCom Learning's three convenient locations, or anywhere in the world via Live Online or onsite training. NetCom Learning is the most trusted name in both business and IT training and offers top notch instructors with an average of 16 years of experience and vendor approved coursework offering certification preparation for a variety of vendor certifications. NetCom Learning instructors routinely achieve high ratings from their students with an average instructor evaluation of 8.6 out of nine, one of the highest instructor evaluations in the industry. The high quality of training has resulted in over 1,700 testimonials and a 96% customer satisfaction rate with those customers indicating they would recommend NetCom Learning to others. Recently NetCom Learning earned an NPS score of 65 which is much higher than average. NPS scores are used to gauge customer satisfaction and loyalty, a score of 50 is considered to be excellent.
To register for the new Microsoft virtualization course go to http://www.netcomlearning.com/packages/20409/Microsoft-Certified-Specialist-Server-Virtualization-with-HyperV-and-System-Center-training.html.
About NetCom Learning
NetCom Learning is an innovative leader in IT, business and executive training to companies, individuals, and government agencies. Since its inception in 1998, NetCom Learning has trained over 80 percent of the Fortune 100, provided training to more than 45,500 business customers, and advanced the skills of more than 71,000 professionals through hands-on, expert-led training, with the organization maintaining an average instructor evaluation score of 8.6 out of 9. NetCom Learning was recognized by Microsoft Corporation as its Worldwide Training Partner of the Year and named three times to Inc. Magazine's list of fastest growing private companies in America. The organization was also recently named to the 2012 Top 20 IT Training Companies by TrainingIndustry.com and was named "Company of the Year" by the American Business Awards.
The purpose of NetCom Learning is to promote the values of lifelong learning!