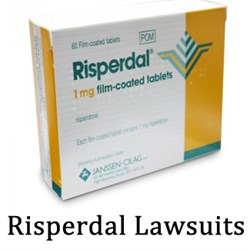 If you have suffered Risperdal Side Effects contact Wright & Schulte for a FREE legal consult at yourlegalhelp.com or call 800-399-0795
(PRWEB) December 11, 2013
Wright & Schulte LLC has learned that Johnson & Johnson has filed a motion in Risperdal lawsuits pending in Pennsylvania state court to keep sealed certain clinical studies pertaining to the antipsychotic drug. According to court documents filed in the Philadelphia Court of Common Pleas, the studies were originally sealed in 2011. In its November 26th motion, Johnson & Johnson urged the Court to allow the studies to stay sealed, as they were intended to be used by researchers and regulators, not the general public. (In Re: Risperdal Litigation, Case ID. 100300296)
The firm indicates that court records show more than 200 Risperdal lawsuits are pending in Pennsylvania, dozens of which were filed on behalf of alleged victims of gynecomastia, or male breast growth. Plaintiffs in these Risperdal gynecomastia lawsuits allege the use of the drug caused them to develop breasts so large that they have had to undergo liposuction or mastectomies to remove excess breast tissue. Even after undergoing breast reduction surgery, affected patients allegedly suffered psychological and emotional distress due to the development of gynecomastia. The complaints also accuse Johnson & Johnson of concealing the risk of male breast growth from patients and the medical community.
For more information on Risperdal lawsuits visit our website to stay connected to all the latest news.
Wright & Schulte LLC has also learned from a Bloomberg.com report of October 2012, Johnson & Johnson reached undisclosed settlements in five Risperdal gynecomastia lawsuits filed in the Pennsylvania litigation just before the cases went to trial. However, dozens of such claims remain unresolved. According to a motion filed on November 5th, plaintiffs in 77 other Risperdal gynecomastia lawsuits have asked the Court to enforce a settlement in their claims that Johnson & Johnson allegedly agreed to last January.
[Bloomberg.com/news/2012-10-04/johnson-johnson-agrees-to-settle-five-rispersal-suits.html, Bloomberg.com, October 10, 2012]
On November 4th, the U.S. Department of Justice reported that Johnson & Johnson had agreed to pay $2.2 billion to settle criminal and civil charges involving the off-label marketing of Risperdal and other drugs. The accord was one of the largest health care fraud settlements in U.S. history, the DOJ said. Among other things, federal prosecutors had charged that Risperdal was improperly marketed for use in children before being approved by the U.S. Food & Drug Administration for such purposes. They also alleged that the company concealed the risk of male breast growth.
[justice.gov/opa/pr/2013/November/13-ag-1170.html?source=email_rt_mc_body&app=n]
Victims of gynecomastia (male breast growth) allegedly associated with the use of Risperdal may be eligible to file their own Risperdal lawsuit. To learn more, or to arrange for a free legal consultation with an attorney at Wright & Schulte LLC, please visit yourlegalhelp.com.
About Wright & Schulte LLC
Wright & Schulte LLC, an experienced personal injury firm, is dedicated to the belief that America's legal system should work for the people. Every day, the attorneys of Wright & Schulte LLC stand up for the rights of people who have been injured or wronged and fight tirelessly to ensure that even the world's most powerful corporations take responsibility for their actions. If you're looking for a law firm that will guarantee the aggressive and personal representation you deserve, please do not hesitate to contact Wright & Schulte LLC today. Free Risperdal lawsuit case evaluations are available through yourlegalhelp.com or by calling 1-800-399-0795.
Contact:
Wright & Schulte LLC
"A Leading Defective Drug Law Firm"
1-800-399-0795
http://www.yourlegalhelp.com