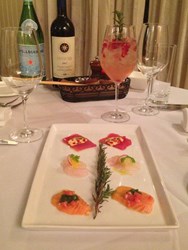 At Morello, our specialty is rustic Italian cuisine with a modern flare.
Greenwich, CT (PRWEB) December 12, 2013
Nothing brings family and friends together like the warmth of Italian tradition and great food. On Christmas Eve and New Year's Eve – two of the most anticipated holidays of the year – Morello Executive Chef Kevin Garcia will offer holiday-inspired special menus, to accompany his popular a la carte menu. Morello will offer a traditional Italian "Feast of Seven Fishes," on Christmas Eve (Dec. 24), followed by exquisite a la carte specials for New Year's Eve (Dec. 31).
Morello's Christmas Eve "Feast of Seven Fishes" consists of seven fish in four courses, including red snapper, tuna and salmon crudo, stewed mussels and clams, risotto with Maine lobster, and Dover sole. Guests can choose to order the four course menu for $79 per person, or select items a la carte.
"At Morello, our specialty is rustic Italian cuisine with a modern flare. We wanted to keep with Italian tradition for our Christmas Eve menu and delight guests with a variety of specially prepared seafood offerings," said Executive Chef Kevin Garcia. Christmas Eve seating is 4-9pm.
The "Feast of Seven Fishes," also known as "The Vigil," is an Italian-American custom originating in southern Italy. The long tradition of eating seafood on Christmas Eve follows the religious tradition of abstaining from eating milk and meat products during holy periods.
What better place to ring in the New Year than the stylish and energized setting of Morello, where guests will dine under the dramatic Guastavino tiled arches and vaulted ceilings, decorated with party balloons and favors. Chef Kevin Garcia has planned elegant holiday specials featuring high-quality ingredients, which will be offered a la carte, in addition to Morello's traditional Italian menu. These offerings include:
Appetizers: Oysters Rockefeller, Grilled head-on shrimp cocktail
Pasta Course: Spaghetti with braised octopus and bone marrow, Risotto with white truffle
Main Course: King crab legs with fingerling potatoes and grilled artichokes, Veal chop with Jerusalem artichokes and mushrooms, Prime-aged rib eye steak for two
Desserts: Roasted vanilla pineapple with zabaglione, Dark chocolate torta with espresso caramel
"The risotto with white truffle is one of my favorite dishes and is a decadent treat for guests who are out celebrating the New Year," Chef Garcia added. New Year's Eve seating is 4-10:30pm with a Prosecco toast at midnight.
This winter try one of Morello's newest signature cocktails, "Sangria Inverno," made with sparkling wine, Pinot Grigio, Solerno, fresh rosemary, fresh pomegranate, sliced orange and lemon, garnished with a sprig of rosemary and pomegranate seed. During Morello's happy hour, 4:30-6:30pm on weekdays, guests receive their second drink on the house.
"We wanted to reinvent Sangria, a popular summer drink, for the colder weather. 'Sangria Inverno' is Italian for 'Winter Sangria.' This is a fun, festive cocktail with simple, seasonal ingredients like pomegranates and oranges," said Jimmy Branigan, general manager of Morello.
Reservations are recommended for both occasions and can be made by calling Morello at (203) 661-3443.
About Morello
Morello Italian Bistro is located at 253 Greenwich Avenue, in the heart of Greenwich, CT, open seven days a week, serving lunch, brunch and dinner. Nationally-renowned Executive Chef Kevin Garcia offers guests a menu of exceptional rustic Italian cuisine with a modern twist, incorporating local ingredients whenever possible. Seasonal cocktails and an extensive wine list are created by wine and beverage connoisseur Olivier Flosse, Wine Director for MARC US. Located in a historical landmark building designed by Rafael Guastavino Jr., featuring stunning tiled arches and vaulted ceilings with dramatic skylights, Morello is the perfect setting for intimate dinners, private parties and corporate events. Reservations are accepted and can be made by calling (203) 661-3443. For additional information, please visit http://www.morellobistro.com.
About MARC Ltd.
Under the direction of Chairman Marlon Abela, MARC (Marlon Abela Restaurant Corporation) offers an international collection of restaurants and enterprises that realize a sense of discovery and passion. The diverse portfolio includes eight restaurants throughout London and the east coast of the United States. MARC is renowned for delivering food excellence by providing cutting-edge cuisine that is united by a consistent commitment to quality food and impeccable service, in exceptional surroundings.
Internationally, MARC is a unique restaurant group in terms of the variety it offers, specializing in an array of different cuisines, including French, Italian and Japanese. MARC differentiates itself further by implementing an impressive wine program across the group, and has achieved Wine Spectator's Grand Award in USA and UK-based restaurants, an accolade no other independent restaurant group has accomplished.