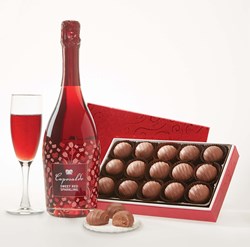 Whether your New Year's Eve is party central or a quiet night at home, our party packs help everyone celebrate tastefully.
Monroe, Wisconsin (PRWEB) December 16, 2013
Celebrations call for festive food and wine. Both are easy to order online for New Year's Eve festivities thanks to a tasty partnership between Swiss Colony and Wine.com.
Find food and wine party packs for any budget. Some of the popular sparkling options to toast the New Year include:
Truffles and Bubbles ($34.99) This combination features a box of 15-count delicately dipped milk chocolate truffles made in Swiss Colony's midwestern candy kitchen along with an Italian sweet red sparkling wine. The Caposaldo sparkling has vivacious bubbles that accent the floral and red berry tasting notes.
Wisconsin butter takes center stage in the toffee found in the Bubbles and Butter Toffee ($44.99) set. Fire-heated copper kettles blend butter, sugar and crushed almonds into batches of full-flavored, crispy-rich toffee. Liven it up by sipping on the Enzo Prosecco as the toffee melts in your mouth!
Snack and sip into the New Year with the Cherry Sparkler ($49.99). Milk and dark-covered cherries are complemented by Fizz 56 Brachetto Spumante - an Italian sparkling wine with a beautiful red hue and tasting notes of raspberry, cherry and strawberry.
There are many non-sparkling options to indulge in:
Start the night with the Mixed Nuts Deluxe Duo ($54.99) which is perfect for snacking on while waiting for the clock to strike midnight. Feast on a colossal array of mixed nuts (no peanuts), including savory cashews, almonds, pecans, brazils and hazelnuts. Enjoy two palate-pleasing wines from Parducci: luscious Chardonnay and bold Cabernet Sauvignon.
For a smaller celebration, the California Chardonnay and Jumbo Cashews ($34.99) are a match made for sipping and munching by a cozy fire. The DeLoach Chardonnay is a rich, layered white that offers alluring aromas of Bartlett pear and ripe apricots accentuated by notes of vanilla and a hint of cream. It's soft and forward on the palate with flavors of green apple and nectarine.
"Whether your New Year's Eve is party central or a quiet night at home, our party packs help everyone celebrate tastefully," says Becky Henke, VP of Food at Swiss Colony.
To see the entire line up of Swiss Colony's food and wine pairings, along with the company's traditional and novelty offerings including baked goods, chocolates, candies, meats and cheeses, shop online at http://www.swisscolony.com. A new line of Gluten-Free desserts is also available.
About The Swiss Colony
The Swiss Colony is a family-owned Wisconsin company that has been creating food gifts for more than 87 years. The company insists on the highest quality ingredients for a large selection of festively packaged gifts for every occasion. Exclusive recipes developed by European Master Bakers and hand-decorated novelties like no other are just two of the reasons customers include The Swiss Colony as part of their holiday traditions year after year.