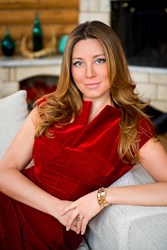 Our goal with this new website is to serve as a hub where individuals can learn more about global lifestyles while being part of an enriched community.
Los Angeles, CA (PRWEB) December 11, 2013
Expert on international living and leading a healthy lifestyle, Alina Reyzelman, announced today the launch of her new website, AlinaReyzelman.com.
Serving as the go-to source for content, advice, and connections regarding wellness and international living, AlinaReyzelman.com offers quick and easy access to essential information and project features that offer a more comprehensive understanding of international and luxury living at it's finest.
"We are excited about our new website launch and the rich content it provides for customers, partners, and those looking to live their lives to the fullest," said Reyzelman. "We believe that this new site will allow visitors and our audience to have a very informative experience as we help them navigate international experiences. Our goal with this new website is to serve as a hub where individuals can learn more about global lifestyles while being part of an enriched community."
Reyzelman embraces the world and is passionate about sharing her international experiences through a variety of services provided through her projects, including Eat Well Co. and Elite Club, Ltd., both of which are accessible through AlinaReyzelman.com. Her passion to travel the world and connect its diverse and exotic offerings to equally passionate individuals is Elite Club, Ltd.'s driving force. Offering information services and bespoke high-end lifestyle services to high-net worth individuals across the globe, Elite Club, Ltd. provides the best options in the world.
Eat Well Co. incorporates indulgent eating with recipes built on Alina's international travels and exotic cuisines. Providing comprehensive overviews of diverse gastronomical benefits, Eat Well Co. is a product of Alina's desire to share her culinary learnings and how best to adapt them into and fuel a curious lifestyle towards better health.
From personal wellbeing to special event management and luxury product acquisition, Reyzelman's website is the education destination for world-wide living. To learn more about Reyzelman's projects, please visit her website at http://www.AlinaReyzelman.com.
About Alina Reyzelman
Prior to becoming an entrepreneur, Reyzelman started her career working for energy companies and consulting firms holding various senior roles. With 15 years of commercial business expertise, she founded Elite Club, Ltd. in 2007 and also works to promote her knowledge of healthy eating habits and wellness through her wellness project Eat Well Co. Her research on the power of aphrodisiacs led to her book Sex Diet, which provides a new take on nutrition and healthy eating.
Alina Reyzelman founded Elite Club, Ltd. and Eat Well Co. as projects to share her experiences driven by an exciting lifestyle defined by world traveling. Her international lifestyles led her to become a self-taught expert on exclusive travel and healthy eating, and create a guide to living and dining luxuriously around the world.
Alina Reyzelman is a resident of Moscow and London, she also spends a lot of time in the U.S. and travels extensively around the world. Alina is actively involved in charity work and admires classics and fine art as an artist herself. Alina is a Ph.D. student, a connoisseur of wines and foods, and the author of World Restaurant Guide. Alina is also fond of the entertainment industry. She recently got involved in the motion picture development with Landscape Films and producer Anthony Jabre. She writes movie scripts and plans to produce and direct documentaries in Hollywood.