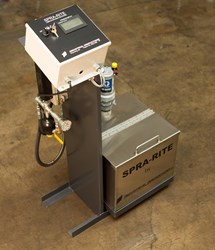 Wyoming, Michigan (PRWEB) December 13, 2013
Industrial Innovations has announced its new, patented Airless Spra-Rite high pressure (HP) spray lubrication system for industrial applications. These HP systems are designed to adequately atomize thick, emulsified lubricants of a rich dilution, which are often required in processing of high strength steels, advanced materials and other challenging materials.
The Spra-Rite system has the ability to generate pressures of 500 psi, and then distribute the pre-mixed lubricant from the 20-gallon reservoir tank, propelling it through a filter and then thru a patented zero-drip Z- nozzle, where it is atomized and applied to specific areas of the stamping or drawing tooling and/or the stock at predetermined press stroke intervals. Use of these systems can improve production rates, reduce lubricant waste and improve environmental conditions. The pedestal style allows easy transport of the equipment from press to press.
A key advantage of the Spra-Rite system is that it features up to 24 spray nozzles, each of which is independently controlled and electrically operated for very precise application of highly viscous lubricant. The controls package offers 200 part recipe storage and individual control of cycle, delay spray, and volume. Additionally, the micro-processor controlled injector valves eliminate the need for poppets, o-rings or check valves found in other application devices.
Spra-Rite lubricating systems have consistently provided users with improved production rates, reduced lubricant consumption for improved environmental conditions and, most importantly, cost savings.
For more information, call 616-249-1525 or email troy(at)industrialinnovations(dot)com.
Industrial Innovations is a leading manufacturer of industrial lubrication equipment for operation in metalworking industries including die casting, metalforming, machining and stamping. The company is known for its comprehensive approach to lubrication solution development, supported by the effective engineering principles, reliable components and quality construction of its equipment.