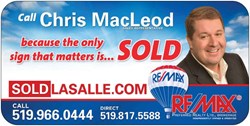 Chris Macleod RE/MAX exceeds expectations in Windsor and Essex County.
Windsor, Ontario, Canada (PRWEB) December 12, 2013
Over the past few years, the global economy has been less than stellar; it has been downright unpredictable, forcing many people to hold off on their dreams of home ownership. Thankfully, the economy – nationally and internationally – is improving and people of all ages are dusting off their dreams, diving into the real estate market and looking for houses. For instance, wide-eyed prospective homebuyers are flocking to Windsor, Ontario and the surrounding areas in search of their dream homes. These people go to Chris Macleod.
Buying a house is a commitment, and it is imperative that prospective homebuyers have a strong and healthy relationship with their real estate agent. As a husband and father of two sons, Chris Macleod understands this and is excited to unveil his newly redesigned website, which will make it easier for prospective homebuyers in Windsor and Essex County to browse houses and develop a relationship with Chris. Buying a house is much more than just a financial investment; it is a dream and life investment!
The problem with many real estate websites is that they are clunky, and it is easy to get confused while using them. Looking for a home is stressful enough; an ineffective website simply adds to the mess. Such websites complicate the relationship between real estate agent and client. Recognizing this, Chris Macleod decided that his website needed a facelift, a redesign. After all, buying a house should be smooth from the ground up, from the moment a prospective homeowner types in the URL to finalizing the sale with a stress-less signature.
Utilizing http://windsorrealestate4u.com/ , a family can rest easy knowing that Chris Macleod will find their Windsor and Essex dream home. The redesigned website, with its easy-to-use, aesthetically pleasing interface and smooth navigation, will help families in their quest for that perfect home – service at its finest, the Chris Macleod way. Just like Chris Macleod's work philosophy, the website will exceed your expectations.
About Chris Macleod RE/MAX: Chris is a proud member of the RE/MAX Preferred Realty Brokerage. He has helped many individuals and families find the perfect home for their needs, style and budget. As a part of the RE/MAX team, Chris has access to inventive and cutting-edge real estate tools, allowing him to better service his clients in Windsor and Essex County.