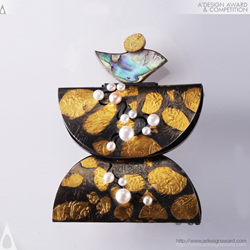 Como, Italy (PRWEB) December 12, 2013
A' Design Award and Competitions are proud to tell that the project Asia Metamorphosis by Victor Syrnev has been acknowledged with the famed Silver A' Design Award in Jewelry, Eyewear and Watch Design Category amidst a great number of works.
Insights on Asia Metamorphosis
Character and external shape of a subject allows it to be changed into a new design. In the lively nature one season changes to another. Spring follows winter and morning comes after night. The colors are changing as well as the atmosphere. This principle of replacement, alternation of the images is brought forward into the design of the Asia Metamorphosis collection where two different states, two unconstrained images reflected in one object. Movable elements of the construction make it possible to a jewelry piece to change the character and appearance.
To learn more, please visit: http://www.adesignaward.com/design.php?ID=28758.
Team Members for Asia Metamorphosis
Asia Metamorphosis was concieved by Designer: Victor Syrnev and Video maker: Igor Syrnev
The Silver A' Design Award
The Silver A' Design Award is a prestigious award given to top 5% percentile designs that has exhibited an exemplary level of quality in design. The designs are judged by a panel of three different jury which is composed of Academic, Professional and Focus Group Members. The designs are evaluated with score normalization to remove any biases and are voted on aspects such as functionality, ergonomics, engineering, presentation, innovation, usability, fun details, technology, and any other specific points that could be considered, each of these points are further weighted for different jury groups.
About A' Design Award and Competitions
A' Design Award and Competitions, aims to highlight the excellent qualifications of best designs, design concepts and design oriented products. A' Design Award and Competitions are organized and awarded annually and internationally in multiple categories to reach a wide, design-oriented audience. Learn more at: http://www.whatisadesignaward.com.