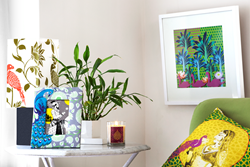 (PRWEB) December 13, 2013
IndiaCircus, the home-décor, lifestyle and personal accessories label, headed by Design Director Krsna Mehta, is pleased to announce a trade program which will enable great offers on bulk orders and wholesale buys. This will give retailers and corporate buyer's options on purchase of a variety of products.
IndiaCircus has over a thousand products with a variety of designs. The categories range from home décor items such as cushion covers and table lamps to accessories such as iPhone covers, sling bags and apparel to name a few.
India Circus is perfect for the ongoing season of festive gifting, weddings and special occasions. While one could of course shop online for one off, statement pieces, special customization services by are offered by India Circus wherein a special product range can be designed depending on the retailer's requirement, preference, taste, etc. By ordering in bulk, customers will be given offers which will have discounts on both the orders and shipping worldwide.
IndiaCircus believes in having an acute understanding of their clientele's aesthetic sensibilities, which they apply to a wide and diverse range of products. Furthermore, maintaining accessibility is essential to the brand.
IndiaCircus is committed to working with wholesalers and retailers. For this purpose, there are dedicated sales representatives. Also, IndiaCircus has tie-ups with reliable logistic partners (the best in line). An easy dashboard for the customer to choose and make payments is also a high point.
IndiaCircus is a design house which believes in attention to detail. Each thing that we design has to be something unique and precious. It is this design ideology that makes every product of India Circus a true pride and pleasure to own. For more details log onto in http://indiacircus.com/bulkorders.