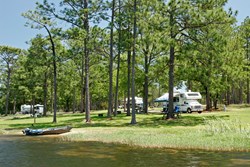 Six amenity-filled South Georgia State Parks are offering Snowbird rates of $12.50 to $16 per night on campsites through February 2014, a 50 percent discount off regular rates.
Atlanta, GA (PRWEB) December 11, 2013
The seasons have changed and winter has arrived, which means that Georgia State Parks has one for the birds—the sun-seeking snowbirds, that is. It's time for the annual migration when residents from points north seek warm southern sunshine. This year Georgia State Parks is offering some cool deals to RVers to nest for a while in the Peach State by offering a 50 percent discount off the regular campsite rates of $25 to $32 per night with a minimum of a 30-day stay from now until February 28, 2014. To take advantage of this fine-as-a-feather offer when making reservations, use promotional code SnowBird50%. For additional details, please visit http://www.gastateparks.org/snowbird.
This snowbird of happiness half-off special discount is valid for campsites at six participating state parks peppered across South Georgia, including Florence Marina, Kolomoki Mounds, Magnolia Springs, Reed Bingham, Seminole, and Stephen C. Foster. The parks offer unparalleled natural surroundings, quietness and serenity, historical perspectives, and something uniquely different about each one for discerning cold-weather escapees. Each offers Snowbird rates ranging from $12.50 to $16 per night. For a complete listing of all that's available at each park, visit http://www.GaStateParks.org.
On the western edge of Georgia lies Florence Marina State Park in Omaha. While its primary design is for water lovers and water sports, it offers a natural deepwater marina, boat slips and boat ramp, and a fun fishing pier where the fishing is as fabulous as the birding. Farther south is Kolomoki Mounds State Park, a historically significant park near Blakely that is the oldest and largest Woodland Indian site in the Southeast.
Wedged between Interstates 16 and 20 is Magnolia Springs State Park in Millen. While it is primarily known for its wildlife and crystalline springs that gush an astounding 7 million gallons per day, the dramatically beautiful site is historically significant in that it was once a Civil War stockade. Near the major north-south corridor of Interstate 75 is Adel's Reed Bingham State Park, another veritable zoo of rare and endangered wildlife such as gopher tortoises and indigo snakes. The park is also home to one of Georgia's most bizarre natural spectacles when thousands of buzzards congregate here to roost for the winter and is truly a sight to behold.
On the 37,500-acre Lake Seminole in the far southwest corner of Georgia close to Donalsonville is Seminole State Park, which has the distinction of having one of the largest longleaf pine forests in a Georgia state park. The park is the place for myriad opportunities for boating, fishing, birding, and wildlife watching. For a taste of the enigmatic, darkly beautiful Okefenokee Swamp, an array of wildlife not found elsewhere, and melodic folk music, Stephen Foster State Park near Fargo is a remote and rare jewel. Here the nights are dark and quiet so that stargazing is an unreal experience.
At Georgia State Parks, it's all about the outdoors for singles, couples or families. For an extended stay with great rates, everyone can easily escape the cold and bask under the Georgia sun with a wide range of activities. For a complete listing of all that's available at each park, visit http://www.GaStateParks.org. For additional details on the discount, visit http://www.gastateparks.org/snowbird.
About Georgia State Park System :
Georgia's State Parks are affordable destinations for vacations and quick getaways. Waterfalls and lakes, salt marsh and mountains are just some of the beautiful environments of the 48 state parks. Georgia State Park Golf Courses offer the best variety and value around. With eight golf courses to choose from, each features natural settings and picturesque surroundings, as well as fun and challenging play. Most state parks offer fishing, boating, hiking, camping, geocaching, birding and more. Accommodations include campsites, cabins, lodges, even yurts, and vary by park. Among the 15 Georgia State Historic Sites are presidential homes, ancient Indian mounds, battlefields, plantations and even a gold museum. Georgia's public libraries have ParkPasses and Historic Site Passes that can be checked out like a book. Annual ParkPasses are $50 (or just $25 for seniors 62 and older). Even better, membership to Friends of Georgia State Parks & Historic Sites includes a free ParkPass and more discounts. Campers can pick up loyalty cards that earn them every 10th night for free. http://www.GaStateParks.org/thingstoknow.