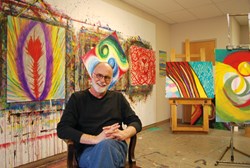 "When they create their artwork they are experiencing themselves and draw on their spontaneity and creativity and passion for living," said Dave Labrum, After Images art counselor.
Mishawaka, IN (PRWEB) January 21, 2014
Scattered throughout the halls of Center for Hospice Care's new Mishawaka Campus are framed and unframed pieces of original art - birds, hearts, vivid colors standout against the natural tones and textures of the building. The art is work of participants in the "After Images" art counseling program. This program, part of the Life Transitions Center's bereavement services, allows participants to work through the process of grieving in a unique way.
The program recently re-located to the custom-designed studio adjacent to the St. Joseph River. With a view of the St. Joseph River and Central Park just outside the studio, participants now work in a tranquil setting, conducive to creativity.
The program is led by Dave Labrum, who has a Master of Fine Arts from the University of Michigan and master's in counseling from Indiana University, brought the program to CHC more than a decade ago.
Those who take part in the program create their artwork alone in the studio space with Labrum's support and guidance. It's a place where they come to feel safe and are able to express their grief openly and honestly, according to Labrum.
He noted that participants are often uncertain about their ability to create art. The majority has no art background or training but quickly move beyond their concerns by immersing themselves in the art process, experimenting with materials such as oil paint sticks, pastels and acrylic paints to create pieces that enable them to experience their feelings of anger, guilt, sadness and loneliness in a new way. For several hours a week, it connects them to their grief in a manageable way and eventually helps them transcend it.
Labrum's work is documented in a hardcover art book, "the hole in me since the day you died." Created by Labrum and Margaret Gloster, the book shares the art and stories of seven program participants. Published in 2006 by Center for Hospice Care, the book is available for purchase online at http://www.centerforhospice.org/art-counseling-book.
Established in 1978, Center for Hospice Care is an independent, community-based, not-for-profit organization, improving the quality of living through hospice, home health, grief counseling, and community education. With offices in South Bend, Plymouth, Elkhart and Mishawaka, Center for Hospice Care serves Elkhart, Fulton, Kosciusko, LaGrange, LaPorte, Marshall, St. Joseph and Starke counties in Indiana.
Center for Hospice Care's work is supported by the Hospice Foundation's fundraising efforts. It supports services offered by CHC, including its variety of bereavement programs to educate and support people experiencing grief following the loss of someone through death. Bereavement programs are available at no charge to anyone in the agency's service area.