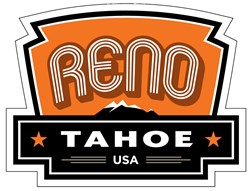 "Based upon all of our diverse accolades, from such a wide array of third-party organizations over the last two years, Reno Tahoe USA is obviously a vacation destination where visitors can't lose!" - Christopher Baum, Reno Tahoe USA President and CEO
Reno, NV (PRWEB) December 11, 2013
Travelers looking for a fun, safe, affordable, sunny, beautiful, hip and varied vacation destination should check out Northern Nevada's Reno Tahoe area, according to more than 50 varied publications and websites, from A (AOL Real Estate) to Z (Zagat.com). The four season, high desert resort destination that encompasses Reno, Sparks and North Lake Tahoe has been recognized for excellence on more than 50 occasions - in a wide variety of national publications and online rankings - over the course of the past 24 months, and the "Top 10" accolades just keep on coming.
"It's pretty incredible to be ranked #9 on the list of '100 Best Places to Live' (Livability.com), #5 on 'Top Spots for Winter Vacations' (The Weather Channel) and as one of the '20 Most Crime-Free Cities in America' (AOL Real Estate), while offering the #1 Lake in America, Lake Tahoe (USA Today Reader's Poll) and the #1 Ski Resort, Squaw Valley (Men's Journal), as well as the #1 ranking for 'Underestimated Cities for Food' (The Daily Meal)," according to Christopher Baum, President and CEO of Reno Tahoe USA. "It's especially surprising when you consider that this is a resort area that most Americans haven't visited… yet," said Baum, "But we're confident that THAT is about to change."
Reno-Tahoe International Airport is the gateway to nearby Lake Tahoe's world class skiing for the vast majority of visitors. And with an early storm recently dumping two-to-three feet of fresh powder in the Sierra Nevada Mountain Range, listed as one of "11 of the World's Most Beautiful Mountain Ranges" by UnofficialNetworks.com, it will be difficult to find a better winter sports getaway this season, according to authorities such as:

Buzzfeed Travel, which ranked Lake Tahoe #1 among "34 Places that are Even Better During Winter."
National Geographic Magazine, which recently highlighted Reno as one of its "Top 10 Emerging Ski Towns."
Men's Journal, which recognized top-ranked Squaw Valley, as well as nearby Northstar and Kirkwood, as having some of the "Best Ski Schools in the U.S."
FoxNews.com, which ranked Squaw Valley USA one of the Top 10 "Best Ski Resorts in North America."
MSN.com, which cited Mt. Rose Ski Tahoe (just a 25 minute drive from downtown Reno) as one of the "10 Hippest Ski Areas You Rarely Hear About."
Forbes, which also picked Squaw Valley as one of their "Top 10 U.S. Ski Resorts."
Besides its top overall rating from the readers of USA Today, Lake Tahoe also picked up several additional noteworthy warm weather awards:
Yahoo! Travel included North America's highest alpine lake in its international list of "10 Lakeside Vacations that Have it All."
FamilyVacationCritic.com voted Sand Harbor at Incline Village, Lake Tahoe one of the "10 Best Beaches for Families."
Yahoo! Shine named Lake Tahoe as a Top 10 lake vacation "Best for Celebrating a Western Icon."
In addition to its #1 rating from The Daily Meal, and Campo's selection by Esquire Magazine as one of "The Best New Restaurants in America," the region's diverse and rapidly expanding food scene also was recognized as follows:
The local GourMelt Grilled Cheese Truck earned double honors this year as one of the "10 Best Grilled Cheese Trucks" by CultureCheeseMag.com and also as one of the "101 Best Food Trucks in America" by The Daily Meal.
Chapel Tavern in Reno's hip MidTown District was recently named one of the "10 Best Places to Drink Rum" in the country by Zagat.com.
A mainstay in downtown Reno for more than 50 years, the Awful Awful was listed as one of the "51 Great Burger Joints Across the U.S." by USA Today.
Additional recognition for Northern Nevada also came for several of the area's top Special Events:
USA Today called the National Championship Air Races one of the "10 Best Air Shows Around the World."
Salon.com ranked the annual "Best in the West Nugget Rib Cookoff" in Sparks one of its 2013 "10 Summer Festivals Worth the Pit Stop."
MSN.com recognized Reno's National Bowling Stadium, which will host more than 100,000 bowlers when the United States Bowling Congress Open Championships and Women's Championships return to the destination in 2014, as one of the "Coolest Bowling Spots in North America."
Hot Rod magazine recently cited the iconic Virginia City International Camel Races as one of their "41 Ways to Go Fast" in 2014.
Locals know why so many visitors are visiting, returning, and sharing their great experiences in Reno Tahoe, and it all starts with the quality of life enjoyed in Northern Nevada:
MSN Money ranked Reno one of "America's Cheapest (Livable) Cities."
Realtor.com ranked the Reno area #3 on its list of "Top 10 Turnaround Towns."
U-Haul listed Reno as #4 on its list of "Top U.S. Growth Cities."
Where to Retire Magazine listed Reno as one of its "100 Best Places to Retire."
Sunset Magazine recognized the Reno Riverwalk District as one of its "32 Great Spring Trips."
The American Planning Association celebrated C Street in nearby Virginia City, an authentic 1860s gold and silver mining town, as one of the "Great Streets of America."
OnlineColleges.com ranked the University of Nevada, Reno one of the "10 U.S. Colleges with Great Greek Life."
Mother Nature Network celebrated the world's tallest artificial rock climbing wall at BaseCamp, in the heart of downtown Reno, as one of "8 of the World's Best Climbing Walls."
And after a fun-filled day of skiing, swimming and eating, it's reassuring to know that - for the sixth year in a row - Reno has been recognized by Casino Player Magazine for being home to the "Loosest Slots in America."
According to Baum, "Based upon all of our diverse accolades, from such a wide array of third-party organizations over the last two years, Reno Tahoe USA is obviously a vacation destination where visitors can't lose!"
For a complete list of recent Reno Tahoe USA awards, please visit http://www.visitrenotahoe.com/media/top-listings.