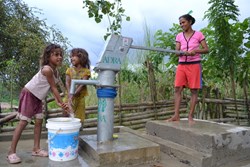 "It is a daunting project, providing the world with clean water," continues Emerson. "We have taken the first steps […] I encourage you to be a part of this effort."
Redlands, CA (PRWEB) December 13, 2013
During a season rooted in the tradition of giving and the spirit of human generosity, Van Craeynest is pleased to announce their charitable partnership with ADRA (Adventist Development and Relief Agency International) to help further develop clean water systems throughout the world. A portion of all Van Craeynest sales will be used to support the project for clean water through well digging efforts – providing further access to water for individuals whose natural water systems have been lacking or compromised.
ADRA was founded by the Seventh-day Adventist Church as a way to follow the example of Christ through service and caring for those in need. The organization seeks out causes rooted in deprivation, social injustice, and human need – and strives to lessen and eliminate them.
The cause of clean water was carefully chosen by Van Craeynest Proprietor, Paul Emerson II, from an enhanced global perspective and a personal calling: "Our travels this past year took us to the heart of India, in the mountains of Nepal and gave a new understanding of the needs of these underdeveloped countries. I was stirred by the lack of clean water and my memories of my own brother's dysentery as a young boy. We were living in Sumatra, Indonesia where my father worked as a missionary. One of my Indonesian friends, Sukki, died when I was six, also from a water born disease." ADRA affirms that 1 out of every 6 people in the world lacks access to clean and safe drinking water. "It is a daunting project, providing the world with clean water," continues Emerson. "We have taken the first steps […] I encourage you to be a part of this effort."
To support the combined efforts of Van Craeynest and ADRA for clean water, call Van Craeynest directly, or mail a check to 27 E. State Street, Redlands, CA 92373 made out to ADRA, memo: VC Well Project. For further information on ADRA visit http://www.adra.org. For Further information on Van Craeynest please visit http://www.vancraeynest.com, or call (415) 362-1025.