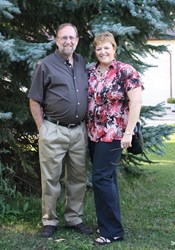 Fort Myers, FL (PRWEB) December 11, 2013
For many Southwest Florida homeowners, their home is their paradise – whether they are full-time residents or seasonal visitors. But keeping up on year-round maintenance including yard work, home repairs and security can be a challenge. Home maintenance can turn that paradise into a overwhelming task, especially as homeowners get busier or older.
The solution: TruBlue House Care, a newly launched full-service residential property management company designed to let home owners live a carefree lifestyle by providing them with year-round total house care.
David and Susan Lancour, owners of TruBlue House Care of Fort Myers Beach, recently opened TruBlue to make a difference in the Fort Myers community by providing a standard of service like no other. David is an ex-marine and longtime carpenter and Susan has worked for world-renowned Kohler Company for the past 25 years. Along with their son Dave, who is the Service Representative, and daughter-in-law Megan who is the Sales Representative, the family is ready to meet your house care needs.
"TruBlue's services are perfect for elderly people, busy families, and adult children who are caring for older parents but don't live close enough to help with normal home maintenance tasks or who maybe don't have the skills needed," Susan said. "We are here to care for your home just like we would our own. It's our family helping your family."
"I want our community members to know that everyone involved in the company has a deep sense of pride in the workmanship and customer services we provide and we will do everything in our power to provide the best services possible," David said.
Working with TruBlue also means clients don't have to tackle unsafe tasks – things like roof repairs, gutter cleaning, and other ladder work – and with TruBlue's customized services, customers only pay for the services they choose. TruBlue of Fort Myers serves Fort Myers, Estero, Bonita Springs and Naples.
To find out how TruBlue can help you, visit http://www.trublueftmyersbeach.com or contact David and Susan Lancour at lancour(at)trubluehousecare(dot)com or (239)221-0424.