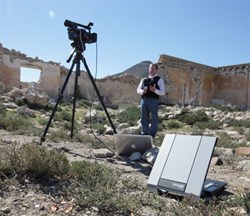 When news is breaking the newsgathering teams need a robust satellite solution that does not get in the way of their work – BGAN actually enables their work. What current clients were doing with BGAN they can do with much higher quality thanks to BGAN HDR
Palm Beach, FL (PRWEB) December 12, 2013
Globalsat Group announces the global availability of full and half channel symmetrical BGAN HDR (high data rate) services through Inmarsat's I-4 satellite constellation. The Globalsat Group's wide experience in turnkey media solutions makes the company ideally suited to provide Inmarsat's HDR services throughout Latin America.
The full channel symmetrical BGAN HDR service provides a minimum throughput of 580kbps with speeds normally in the 600-700kbps range and throughput as high as 800kbps. A mechanism is under development to report the actual connection speeds and ensure broadcasters can take full advantage of available bandwidth, rather than having to compromise on throughput by configuring their codecs to a minimum speed.
Inmarsat's BGAN HDR represents a significant advance in picture quality for the broadcast sector and delivers unprecedented streaming speeds for mobile satellite newsgathering. The new BGAN terminal from Cobham SATCOM - the EXPLORER 710 - is the first terminal capable of accessing BGAN HDR. It weighs just over 3kg and is ready to transmit within less than 5 minutes of being powered up. There is no need to coordinate frequencies or access points, as Inmarsat is responsible for connecting the user to the Internet through its global constellation and gateways. Thanks to BGAN's famous ease of use, no technical expertise is needed to set up and operate the terminal.
Inmarsat's global 3G L-band satellite network was launched in 2005 and empowered journalists to broadcast live, high-quality video from almost anywhere on the planet. The introduction of BGAN HDR represents Inmarsat's commitment to continually evolve their portfolio to meet the demands of the broadcasters, and the company will remain committed by introducing full and half channel asymmetric BGAN HDR services early next year.
Alberto Palacios, CEO of Globalsat Group, emphasizes that "we have media customers who base their business model on being on time at the right place, on the air with the images and sounds of what is happening, and this is only feasible with a terminal that is as easy to carry as a notebook and is easy to set up and use." Palacios adds: "when news is breaking the newsgathering teams need a robust satellite solution that does not get in the way of their work – BGAN actually enables their work. What current clients were doing with BGAN they can do with much higher quality thanks to BGAN HDR. Additionally, BGAN HDR will allow the creation of a new portfolio of turnkey solutions, ideal for clients that have not yet started using leading edge mobile satellite solutions, therefore we expect an important increase in regional demand."
Globalsat Group is the first regional consortium to offer BGAN HDR services to end clients and also the first to offer upgrades to the EXPLORER 710, thanks to also being a distributor of Cobham SATCOM (previously known as Thrane and Thrane). Globalsat Group is available for demonstrations and ready to provide both the service and the necessary terminals in all Latin America, through offices in the US, Bolivia, Chile, Peru and Colombia as well as distributors in the region's most important cities.
About the Globalsat Group:
Globalsat Group is an international consortium of companies. The group is an industry leader in providing MSS (Mobile Satellite Service) in Latin America since 1999.
The Globalsat Group serves thousands of customers, providing a wide array of satellite services including voice, data and tracking in the air, land and sea for sectors such as Government, Oil & Gas, Defense, Media, Mining, Banking, Agriculture, NGOs and Tourism. Services are provided both directly to customers as well as through distributors. For more information about the Globalsat Group solutions visit http://www.globalsat.us/.
About Inmarsat
Inmarsat plc is the leading provider of global mobile satellite communications services. Since 1979, Inmarsat has been providing reliable voice and high-speed data communications to governments, enterprises and other organizations, with a range of services that can be used on land, at sea or in the air. Inmarsat employs around 1,600 staff in more than 60 locations around the world, with a presence in the major ports and centres of commerce on every continent. Inmarsat is listed on the London Stock Exchange (LSE: ISAT.L). For more information, please visit http://www.inmarsat.com.