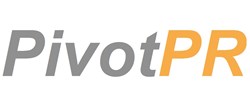 Charlotte, NC (PRWEB) December 11, 2013
President & CEO, Drew Porcello has launched Pivot PR, a full-service public relations agency located in Charlotte, NC. With nearly a decade of industry experience, Porcello and his staff will take a consultative approach to help client's effectively communicate their message in order to meet business objectives.
Pivot PR will focus primarily on small and mid-size business that need assistance in crafting and executing a strategic marketing plan. Services include strategic planning, media relations, social media, content creation (video, whitepapers, cases studies, articles, testimonials), crisis planning, graphic design, event promotion, brand reputation, awards, speaking opportunities, email marketing, website and mobile app development.
"Today's marketing demands are greater now than they've ever been. We understand our client's needs and help them better communicate their message, this is why I created Pivot PR," said Drew Porcello.
"We'd also like to be a resource to the c-suite and marketing professionals of Charlotte, keeping them up-to-date on the latest PR tactics, trends, and ever-changing media landscape."
ABOUT PIVOT PR:
Pivot PR (http://www.pivotpublicrelations.com), is a full-service strategic public relations agency located in Charlotte, NC. Focusing on marketing and communication services, Pivot understands the business needs of their clients and creates and implements quantifiable strategic marketing solutions.