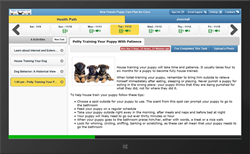 MedaVet helps me to help my patients - Dr. Dana Westerman, DMV
Redmond, Washington (PRWEB) December 12, 2013
Redmond, Washington based MedaNext today announced the launch of its MedaVet product, an interactive cloud based technology platform for veterinarians and animal welfare organizations. The MedaVet platform delivers a web and mobile based health path to veterinary clients, containing prescribed tasks, educational material and appointments.
The MedaVet veterinary console is easy to use for veterinary staff and patients alike. Veterinary staff use the application to create accounts, create customized health paths for any medical condition or surgical procedure, modify templates, assign health paths to clients and add care team members to a health path, closing the loop with referring veterinarians and specialists. A dashboard helps monitor patient progress and a health journal documents and quickly identifies problems.
MedaVet customer Dr. Dana Westerman, DMV commented, "With the increase in treatment compliance, the animal's health improves which is the goal for all parties involved; MedaVet helps me to help my patients."
The MedaVet client application helps users plan for, view and follow the health path assigned to their animal. The application includes learning activities, appointments, a daily task view, messaging and a health journal. Clients can post questions to their care team, add notes to their journal and upload photos that are relevant to the care they are providing. Reminder emails and text messages keep clients on track.
"We were inspired by our own companion animals to bring MedaVet to the market," commented Kelly Altom, CEO MedaNext Corporation. "As more and more vets are using our service, they are finding great benefit to providing their clients with online health plans and many are seeing improved outcomes and reduce costs."
In addition, MedaVet is partnering with The Motley Zoo, a leading animal rescue organization in the Seattle area to save homeless animals. MedaVet provides free technology to The Motley Zoo and will make a donation to The Motley Zoo for each Veterinarian who signs up to use the MedaVet Product.
Jme Thomas, Founder and Executive Director of the Motley Zoo stated, "Our approach to saving animal lives is innovative and different and we were interested in a partner with the same qualities. All of the Motley Zoo animals are immediately put on MedaVet healthpaths. Our foster families and staff love the MedaVet product and the MedaVet team."
With no software to install or update and no service agreement, MedaVet is being adopted by veterinarians and clients alike to improve the care that they are giving their companion animals.
# # #
MedaNext is currently offering a 30 day free trial to test the MedaVet product.
http://www.medavet.com
info(at)medavet(dot)com