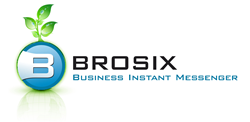 With input from our users, we decided to upgrade both the functionality of the control panel as well as the design.
(PRWEB) December 12, 2013
Last month, Brosix released a new control panel that will be used by customers to control their private IM networks.
With new features, as well as a fresh design, users will find it easier to navigate the control panel. Along with this, the improved design will go a long way in helping users save time.
Some of the updated features associated with the new control panel include:

Improved reporting
Improved order process
Improved license management
In an overall sense, the primary goal of the control panel change was to make life easier on customers who access this tool on a regular basis.
Brosix CEO Stefan Chekanov is excited about what this will bring to users, adding the following:
"The control panel is something that many of our users rely on, day in and day out. For this reason, we wanted to make changes that would make their life easier. With input from our users, we decided to upgrade both the functionality of the control panel as well as the design."
Best yet, there will not be much of a learning curve associated with this change.
"It is only natural for users who are familiar with the old control panel to worry about what this will mean to them," said Chekanov. "Fortunately, every change was made with our users in mind, ensuring that they do not face an unwanted learning curve. We have received positive feedback from all our users, stating that making the switch was quite simple."
This is just one of the many changes Brosix made during 2013, with more planned after the new year.
To learn more about Brosix, including what the company has to offer, please visit http://www.brosix.com.
About Brosix
Brosix offers all-in-one instant messaging incorporating audio and video calls, sending screenshots, co-browsing, whiteboard and desktop sharing technology to provide an easy-to-use online meeting solution for high-quality online business collaboration. Used by more than 100,000 registered users, Brosix customers consist primarily of small- to medium-sized businesses. At present, more than 10,000 corporate customers in over 70 countries worldwide are using the Brosix private instant messaging networks and benefiting from significantly reduced travel time and travel expenses. Launched in 2006, Brosix is continuing to provide great enterprise instant messaging software to thousands of users around the world.