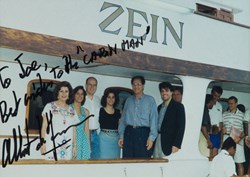 I saw a lot of boats at anchor when I first arrived in the Galapagos, but the M/Y Grace stands out because she is so beautiful.
(PRWEB) February 19, 2014
Chairman of the Cool Group of companies, Joseph J. Issa, says he is pleased that come 2014, the legendary motor yacht his father once named after his sister Zein, is set to continue cruising the waters of the Galapagos Islands in the Pacific Ocean and is already promoting her monthly tours well into Christmas next year.
"I was online and was reading some of the comments by persons who had cruised on the M/Y Grace, as she is now called; this brought back so many pleasant memories; I would hate to see her retired; so I am pleased it will continue cruising into the new year and bring to many more people that unique experience which I've had the good fortune to enjoy for some 18 years," Joe Issa says.
A tourism marketing guru, Joey says he was also pleased with the 2014 itinerary for the 84-year-old luxury yacht in which it works for one week and rests for the other, and her popular bimonthly 7 nights/8 days tour "Following in Darwin's Footsteps" which is already being promoted with Saturday to Saturday dates right up to Christmas 2014.
The tour capitalizes on the scenic beauty of a geologically young Spanish archipelago made famous by Charles Darwin, whose observations and collections of their vast number of endemic species are said to have contributed to the establishment of his theory of Evolution by Natural Selection.
According to Joey, the 147-ft, 18-passenger yacht boasts nine luxury cabins and bathrooms, which today range in price from US$5,880 per person for C class premium staterooms for the duration of the tour, to US$6,660 for A class master suites. The prices which are for 2013, includes on-board meals and non-alcoholic beverages, snorkeling gear and wetsuits and tour guides.
Joey says the luxury yacht is also graced with public lounges, exquisite dining, special features such as a Jacuzzi, sea kayaks and a deck plan. Also, he informs that on the Galapagos tour activities and expeditions are organized for children.
Stating that comments made by people who had cruised on board her resonated with him, he cites BBC Nature Show host, Paul Rose, who wrote: "I saw a lot of boats at anchor when I first arrived in the Galapagos, but the M/Y Grace stands out because she is so beautiful. The best looking boat in the Galapagos for sure. I fell in love with her classic lines and sea kindliness."
The business savvy philanthropist also pointed to comments made by Susan R. Ketterlinus, who said the Galapagos trip on the Grace was nothing short of fabulous.
And yet testimonial came from Sarah Westad which said: "I thought the Grace was a wonderful yacht. My husband and I probably had one of the smallest cabins and we found it very comfortable and well designed. The A class doubles looked wonderful! Our children were down below in C5 and loved their cabin!"
The luxury yacht, sold in 2007 to Quasar Expeditions after some 18 years in the hands of the Issas, who had held her the longest, according to Joey, was again refitted and renamed M/Y Grace, to cruise the waters of this remote archipelago of some 29 volcanic islands over 900 kilometers off the Ecuador mainland.
Built in 1928, just ahead of the Wall Street crash, he informs, the yacht would later become one of the most elegant and famous in the world. He says she had 12 different owners and renamed nine times, the last being M/Y Grace.
Bought by Joey's father, famed tourism architect John Issa, the luxury yacht was refitted in Tampa, Florida and arrived in Negril in time for the opening of SuperClubs Grand Lido Negril in 1989. From hence Joey hosted renowned global figures and luminaries while cruising the north and west coasts of Jamaica's scenic tourists resorts day and night, with cuisine and cocktails to please the richest pallets.
In romanticizing the yacht Joey looks to the period over half a century ago when it was named 'Deo Juvente 11' by Prince Rainier 111 and Princess Grace of Monaco, having received her as a gift from Aristotle Onassis for their 1956 wedding, and on which they spent their honeymoon cruising off the coast of Monaco.
The marriage of sole heir to the Monacan throne and U.S. film star, Grace Patricia Kelly is believed to have brought elegance and glamour to what has been described as "The wedding of the century" and to this day is regarded as one of the most beautiful weddings ever, with guests such as Cary Grant, David Niven, Gloria Swanson, Aristotle Onassis and Ava Gardner.