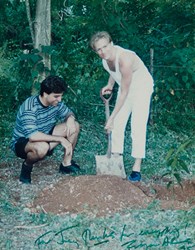 Judging by the number of iconic figures who have come to Prospect Plantation in support of the program and the patronage from the public thus far to 2014, I think it has been a great success.
(PRWEB) January 21, 2014
Business savvy and Philanthropist Joseph J. Issa, has hailed as a huge success, the 'plant a tree' programmer at Prospect Plantation that has been promoting green field development long before climate change became a concern.
"Judging by the number of iconic figures who have come to Prospect Plantation in support of the programmer and the patronage from the public thus far to 2014, I think it has been a great success," says Joe Issa, who planted a tree along with Canadian superstar Bryan Adams in the late 1990s.
Arguably the 20th century's funniest actor, Charlie Chaplin is among the first famous celebrities to plant trees at Prospect Plantation in Ocho Rios, Jamaica's premier tourist resort for accommodation, shopping, dining and entertainment.
Chaplain's visit followed Sir Winston Churchill's in 1953, when he planted a mahogany tree in front of the Great House. Commemorative plaques document planting information on trees all over the property.
The world famous non-commercially operated plantation grows pimento (allspice) coffee, cocoa, banana, pineapple and sugarcane, which are incorporated into educational tours. In addition, there thrilling attractions, such as camel rides and horseback river rides, throughout the near 1000-acre former 18th century sugar plantation, where camels were used to power the sugar mills.
Charlie Chaplin, the iconic character of the silent film era, who was best known as the naive and loveable "Little Tramp", and made some of the funniest and most popular films, from "Easy Street" (1917) to "Modern Times" (1936), planted his tree in 1965 before passing on Christmas Day 1977 in Vevey, Switzerland at the age of 88.
Soon after visiting Jamaica and planting the tree in front of the historic, early 17th century Great House on Prospect Plantation, Chaplin retired from the film business. A plaque on the tree commemorates his visit to the ecological theme park, under the 'plant a tree' programmer.
The man who always wobbles into awkward situations is said to have found the visit to Prospect Plantation exciting and rewarding, like many of the rich and famous who followed him.
Chaplin, who is not as well-known as a musician, shares space at Prospect Plantation with another, better-known musician, rock star Bryan Adams, OC, OBC. Adams is said to have planted his tree, while on the island in the late 1990s as Joey's guest.
Adams, like Chaplin grew up in London, England and was just as British, even though he was born in Ontario, Canada. However, unlike Chaplin, who is 70 years his senior, Bryan's parents were professional people of a different era and therefore more prosperous.
By planting the tree, the multi-award winning singer-songwriter and guitarist took his place among some of the 20th century's greatest luminaries, who planted trees at prospect plantation, under the programmer that encourages environmental protection.
Born Bryan Guy Adams on November 5, 1959, he rose to popularity at aged 24 with the release of his third album, "Cuts Like a Knife" in 1983, but it is his fourth album "Reckless", it is said, that made him an international superstar and gave him his first Grammy nomination. The album is referred to as one of the best in the 1980s.
Adams' success went unabated and in 1991, the release of the album "Waking Up the Neighbours", which contained the hit single "(Everything I Do) I Do it For You" made Adams a mega star. The album sold over 3 million copies in the US, and gave Adams six Grammy nominations, a record for a Canadian. The single became the second best seller, after "We Are The World", and was the best song written for a motion picture or television.
A historically significant plantation theme park, Prospect Plantation has had guests including Their Royal Highness, The Grand Duke and Grand Duchess of Luxembourg, Queen Mary, Prince Phillip and Prince Edward, Princess Alice, Pierre Trudeau, Dr. Henry Kissinger, Sir Noel Coward, Ian Fleming, Drew Barry and many more. These were frequent guests who planted trees to commemorate their visits in support of the programmer of greening the environment.