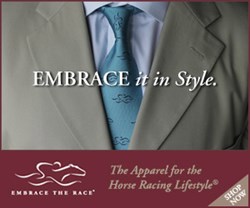 A race is two minutes, but the passion is timeless. Embrace it.
SARATOGA SPRINGS, New York (PRWEB) December 12, 2013
EMBRACE THE RACE®, The Apparel for the Horse Racing Lifestyle®, has expanded its exclusive line of products to provide one-stop shopping for the holiday season.
EMBRACE THE RACE ultimately combines an inspirational logo with an emotional phrase to captivate customers. Its complete array of holiday gifts for the horse racing fan includes polos and pullovers, totes and ties, coffee mugs, glassware, hats, umbrellas and more.
Created by race horse owners from Saratoga Springs, New York, EMBRACE THE RACE speaks to the discerning enthusiast, celebrating and promoting The Horse Racing Lifestyle™. Deeply rooted in tradition, this lifestyle offers a unique mix of social connections and sporting entertainment, which includes activities at tracks, farms, sales pavilions, personal and business gatherings and beyond.
"A horse race is two minutes, but the passion is timeless," states Mike DeAnzeris, Founder and President. "Horse racing enthusiasts live the passion year round. We are proud that our brand can help our customers celebrate with great gifts during the holiday season."
Celebrate the season with gifts from EMBRACE THE RACE, The Apparel for The Horse Racing Lifestyle. Browse online at http://www.EMBRACETHERACE.com, or call (518)580-4500 for a distinct shopping experience, special shipping and personalized horse racing merchandise.