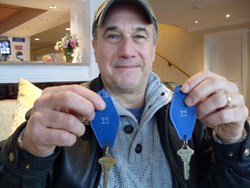 Vineyard Haven, Martha's Vineyard Massachusetts (PRWEB) December 12, 2013
When the historic hotel, the Tisbury Inn, burned down on December 15, 2001, it was a major Vineyard event. There had been a hotel on that corner since 1791. The Volunteer fire department had never fought a blaze of that magnitude and some of the firefighters were wearing Tuxedos as it was the same night as an important well attended Holiday party! All the down Island town's fire departments were called in and the collaboration and skill to fight and conquer the blaze was remarkable. The Tisbury Inn was a total loss, and when rebuilt and reopened in July, 2003, the Inn took back the 1791 name, Mansion House.
In the aftermath of the fire, owners, Susan and Sherm Goldstein heard from Senator Kennedy and Representative Delahunt. The Inn was important to the economic well being of the town. But one mystery remained. What about the couple that did not come back to the Inn the night of the fire?
The Mansion House uses electronic room cards, so it was much to General Manager, Jim Cleary's surprise, when an Inn guest showed up to return a brass Room 32 key. It was twelve years ago, that Karen and Charles Farley left the Tisbury Inn to go to a movie and returned to see flames, firemen and no where to go. Mr. Farley has had the key since the night of the fire that destroyed the Tisbury Inn, on December 15, 2001.
Susan Goldstein recalls: "As soon as staff knew there was a fire, they ran from guest room to guest room, and when the Firemen arrived they also went room to room. We were told that no one was hurt, but we were worried and anxious about room 32 since we did not know where they were."
The mystery was cleared up as Charles Farley, Tisbury Inn guest on December 15, 2001 and 2013 Mansion House guest told the story of that night. Mr. Farley was returning from dinner in Edgartown and as he drove back to Main Street saw the fire trucks so he turned around and began to look for a place to stay. He said he had trouble finding an open Hotel and finally around midnight located an Inn that would take him in without luggage or reservations. The next afternoon, he returned to the Tisbury Inn and saw Fire Chief Clark.
"I was so surprised when my bags got returned, stinking of the fire," Mr. Farley shared with Jim Cleary who was also surprised with the return of the keys. Acknowledging the many improvements that the new building offers, Mr. Farley said he was eager to come back again.
For additional information
Contact: Susan Goldstein
Susan(at)mvmansionhouse(dot)com
508 693 2200 x 102
Charles Farley
New Hampshire
603 234 7075