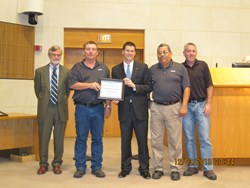 ...we will continue to be committed to environmental excellence.
(PRWEB) December 12, 2013
On December 3rd, the City of Carrollton Environmental Services Department held an awards ceremony honoring 12 companies for their commitment to and compliance with the environmental requirements set by the Industrial Pretreatment Program. Among those awarded was MI Windows and Doors (formerly General Aluminum) who has received recognition consistently for the past 9 years.
"We are very proud to have kept our standards at a high performance level," stated Armando Flores, Safety Supervisor of MIWD Carrollton, TX. "This achievement is the result of a lot of hard work, and we will continue to be committed to environmental excellence."
The Industrial Pretreatment Program (IPP) is an active partnership between the private (industrial, residential) and public (city, state, federal government, treatment plant) sectors. The goal for the program is to manage industrial pollutants to ensure that no interference, pass-through, damage to the treatment plant, or injury to personnel occurs. The IPP complies with the Federal Clean Water Act by controlling potential pollution and industrial discharge in the city. Wastewater from new and existing facilities is continuously evaluated and water sampling and comprehensive facility inspections allow for monitoring of permitted industries. To learn more about Environmental Services in the city, visit http://www.cityofcarrollton.com.
About MIWD
Founded in 1947, MI Windows and Doors is one of the nation's largest suppliers of energy efficient vinyl, aluminum, and composite windows and doors. With plants across the country, MIWD offers a broad spectrum of windows and doors backed by exemplary customer service. The company's character, integrity, and commitment are exemplified by the people that represent it nationwide. For more information about MIWD, visit http://www.miwd.com/.