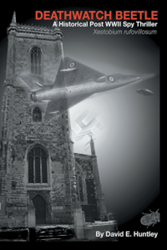 Filled with action, adventure, and romance… an intriguing puzzle for amateur cryptographers and fiction fans alike.
ALLEN, Texas –
(PRWEB) December 12, 2013 -- Donald Harvey is happily occupied as an employee at Trandect Engineering Ltd. in High Wycombe, Buckinghamshire, England. Donald, the star of this new novel, entertains himself with his sweetheart, a young Polish immigrant named Alijca, and he skirts the edges of danger with a lucrative black market business. His idyll, however, comes to a sharp halt when Donald unwittingly involves himself in international espionage. Some misplaced apple juice uncovers invisible ink on a stray piece of paper in a hymnal, and Donald quite naturally becomes curious. The strange series of letters is clearly a code, and Donald takes it to a cryptographer friend.
The cryptographer, Roger, is intrigued, and takes it to his contacts at MI6. The agency and their American counterparts in the Air Force brief Donald, and they bring him into their plans to apprehend a Nazi war criminal responsible for the death of thousands, as well as heading up Hitler's super weapons projects.
Can Donald uphold his end of the task and bring the notorious criminal to justice? Can he maintain his life as he does it, including his burgeoning romance with the beautiful Alijca, who has her own history of suffering at the hands of Russian and Nazi occupation forces?
"Death Watch Beetle" is an engaging story, creating an authentic narrative. Filled with action, adventure and romance, author David Huntley's novel becomes an intriguing puzzle for amateur cryptographers and fiction fans alike. Huntley, a survivor of the London Blitz in WWII, now a semi-retired international businessman, lives in Texas with his French wife, Sophie, herself a survivor of Nazi occupation. Huntley has tremendous respect and admiration for the soldiers and sailors of the U.S. and Allied Armed Forces who "helped save Europe from tyranny," and has dedicated this book to WWII veterans. Many of their names and service are recorded for posterity in the books' final pages.
----------
For additional information, please visit http://www.deathbeetle.com.
Death Watch Beetle
David E. Huntley
Dog Ear Publishing
ISBN: 978-1-4575-2373-1 | 312 pages | $16.99 US
Available at Ingram, Amazon.com, Barnes & Noble and fine bookstores everywhere.
About Dog Ear Publishing, LLC
Dog Ear Publishing offers completely customized self-publishing services for independent authors. We provide cost-effective, fast, and highly profitable services to publish and distribute independently published books. Our book publishing and distribution services reach worldwide. Dog Ear authors retain all rights and complete creative control throughout the entire self-publishing process. Self-publishing services are available globally at http://www.dogearpublishing.net
and from our offices in Indianapolis.
Dog Ear Publishing – self-publishing that actually makes sense.