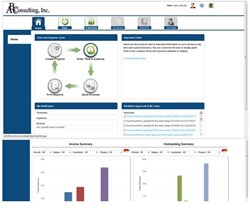 San Jose, CA (PRWEB) December 12, 2013
AccountSight Software announces the enhancements to their latest cloud-based online application version 2.10, a fast growing and easy to use time, expense and invoicing software. This announcement comes on the heels of their previous enhancement release three months ago and makes AccountSight one of the best choices for online time, expense and billing software in the market.
These enhancements demonstrate AccountSight's commitment to its customers' needs by being focused on delivering enriched time tracking as well as online invoicing and billing capabilities. The following new features are included in this release:

Enhanced manual invoicing.
Beautiful invoice templates with different color selections to go with personalized branding.
Configurable notifications and reminders.
Enhanced invoice reports to support multiple currency invoicing.
Enhanced Manual Invoicing
Enhanced manual invoicing makes online invoicing more convenient than ever. These new features will allow AccountSight users to create and send manual invoices to their clients much faster without any prior application setup. The following functionalities have been added to manual invoicing:

Manual invoice navigation has been simplified to save time.
Users can personalize their manual invoices and set tax labels directly while generating the invoice. Personalized labels can be set for specific invoices.
Users can now directly add new customers as well as new billable items or select from a list while creating a manual invoice without configuring any invoice settings.
Improved Invoice Format

Check out the newly redesigned stylish invoice template.
Another exciting addition is the introduction of colored invoices. AccountSight customers can now generate colorful invoices that match their branding colors.
Configurable Notifications and Reminders for Time, Expense and Invoicing

Notification setup is now more flexible and can be created/edited from the user interface.
The invoicing administrator can get automated notifications about delayed invoices or the invoices that are becoming due.
The invoice delay reminder can be sent from the invoice summary section.
Enhanced Invoice Reports to Support Multiple Currency Invoicing

Invoice reports are now grouped by currency for companies billing in more than one currency.
With this release and upcoming software updates, AccountSight aims to take the top spot amongst time, expense and invoicing software.
AccountSight Key Features:

Time tracking and expense tracking in seconds.
Efficient timesheet and expense approval workflow notifications.
Excel integration for time and expense bulk uploads.
Fast and easy manual and recurring online invoicing.
Configurable automatic reminders on timesheet, expense and invoices.
Powerful dashboards and reports for online project management and invoice status.
Drill-down directly from dashboards into time, expenses and invoicing reports.
System Requirements:
AccountSight works with any operating system. Supported browsers are Internet Explorer, Mozilla Firefox, Google Chrome and Safari.
Pricing:
AccountSight is a subscription based software with prices starting from $7.95 to $9.95/user. Volume discounts available for larger companies and government organization. Please contact AccountSight directly for special pricing.
Free Trail and Availability:
Try it free for 30 days now! Easy sign up, no credit card needed.
Register now at http://www.accountsight.com/
About AccountSight
AccountSight is an easy to use online time tracking, expense tracking and invoicing software ideal for all businesses, consultants and freelancers. It is full of productivity-driven features. The rich functionality and hassle-free user experience makes AccountSight unique. For more information, please visit http://www.accountsight.com.