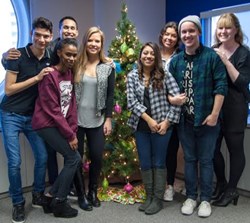 While I would love to have Coach flats and some new boots from Michael Kors, I'd just be happy seeing my family and friends I have back home.
Los Angeles, CA (PRWEB) December 13, 2013
As current FIDM students get ready to wrap up the end of the quarter, all that seems to be on their minds are the holidays. When asked, these fashion students had some wonderful ideas for fashionable gifts this holiday season.
Two students from the Los Angeles campus shared their love for designer luxuries. Their lavish wish list is a fashion enthusiast's dream come true. Ida-Sofia, Merchandise Marketing student, shares that she would love Chanel Chance perfume. FIDM LA student Carter Ray says, "I'd love to receive white Louboutin Loafers because they are so extravagant. Another item on my wish list is the Louis Vuitton briefcase in the Damier Azur Canvas because every fashionable guy needs one. A gold and blue Michael Kors watch to slap on my wrist and an Armani Mania cologne to coat myself in a scent that is recognizable and memorable."
These fashion students are peppering their Christmas wish lists with bags, jackets, shoes, and new makeup collections and can't wait for the opportunity to show them off next quarter when they come back from break. Claire Stanziale confesses she wants an amazing fringe bag this year. "That rocker vibe is never out of style." Caylee Erwin expresses her absolute need for an VidaKush spirit animal army jacket. "I have a slight obsession with tigers," says the design student. Jena Huse would die for the new Naked 3 Eyeshadow Palette. Business Management major Hope Evans has been wanting Hunter Boots all year long to be able to wear them this season, and these famous rain boots are on her wish list.
Wanting cameras seem to be popular among FIDM Students this year. Jennifer Neumann and Rocio Tepayotl are asking for a gift that will simply capture moments. More students are starting their own blogs and want cameras to enhance the site appearance, and many students want cameras to capture as many photos they can of Los Angeles while they are attending school here in the heart of Downtown.
Going vintage, student Emily Hedrick has her eyes set on a record player. "I love music on vinyl!" she says. Another vintage lover is Fashion Design student Erica Williams who would like vintage inspired jewelry. She expresses, "I feel like I can never have enough vintage jewelry. Statement necklaces and earrings are my absolute favorite."
The gift that truly is foolproof, never goes out of style and is appropriate for any age group, is money. But these students don't want money to buy their own gifts; they would just like some help and support from family members to either pay off their student loans or make an investment towards a fashion line. Gabbiy Ramirez from the Los Angeles campus and Emilee Richardson and Andre Lam from FIDM OC are asking for money this year to help with loans and paying the bills. They are asking for the investment in themselves this year because their education means the world to them. Their wish of attending their dream school has already come true, now it's just time to pay it all back. Dorsa Mohajer wants to have the opportunity to create her own designs. She has come a long way from home and have left all her family and friends to pursue her goals and would just like continued support from loved ones.
And speaking of loved ones, Product Development student Ully Ferrer just wants to see his family for the holidays. "Being at FIDM and having an extremely busy schedule makes me miss my family a lot," said by the humbled design student. "While I would love to have Coach flats and some new boots from Michael Kors, I'd just be happy seeing my family and friends I have back home."
With four incredible campuses, FIDM/Fashion Institute of Design and Merchandising is the leading design college on the west coast. Educating for careers in fashion, graphic design, interior design, entertainment and marketing.