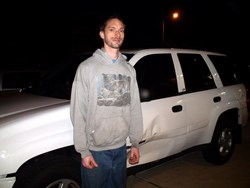 'Wow! I don't know what to say,' said Mr. Forney. 'I'm not used to this much attention. I was going to get this work done piecemeal, because I really couldn't afford to get it all done at once.'
Trevose, PA (PRWEB) December 11, 2013
Robert Forney of Northeast Philadelphia, PA, a U.S. Marine Corps veteran of the war in Afghanistan who suffered brain damage from multiple exposures to roadside improvised explosive device blasts, has been named the latest winner of CollisionMax's Metal of Honor project.
Free of charge, CollisionMax of Northeast Philadelphia, will repair Mr. Forney's white 2002 Chevy Trailblazer SUV. The vehicle bears damage from damage from several accidents, including a "t-bone" collision to his driver-side door one year ago, and damage to the front and rear bumpers.
"Wow! I don't know what to say," said Mr. Forney. "I'm not used to this much attention. I was going to get this work done piecemeal, because I really couldn't afford to get it all done at once." He says he only recently got a smashed window fixed by CollisionMax.
Mr. Forney enlisted in the Marines in 2008 and served in Afghanistan as a turret gunner in a light armored vehicle, a fast, eight-wheeled reconnaissance vehicle. He doesn't like to talk about his combat experience, and what he says he gives up reluctantly. "I don't want to get into the grimy details, but it was no picnic, that's for sure," he says solemnly.
Now 25, Mr. Forney says he suffered the worst of his injuries from a bomb blast in 2009 -- one of two that knocked him unconscious -- on a rural road in Helmand Province, Afghanistan, during a nine-month deployment Discharged two years ago, he has been receiving weekly treatment for post-traumatic stress disorder (PTSD) at a Veterans Administration hospital ever since. "I have trouble doing things that people take for granted," he said, "like maintaining my concentration. The doctors haven't really been able to pinpoint the problem."
Despite his problems, Mr. Forney maintains a job as an installer in a Philadelphia factory that makes passenger train cars, and expects soon to complete his training as an aviation mechanic at the Aviation Institute of Maintenance in Philadelphia. He also volunteers regularly at homeless shelters where, this past Thanksgiving, he was helping to serve meals at the shelter at 16th Street and JFK Boulevard in Philadelphia.
Mr. Forney was nominated by a friend, Sarah Kelley, also of Philadelphia. She wrote that "I met Rob a couple of years ago and since day one, even with the PTSD, he helps everyone. He goes down to the shelters and does the food drives for the holidays for the families who cannot provide for their own. He's a good man, his vehicle is a wreck, and deserves the help."
Through its Metal of Honor project, CollisionMax will give away auto body repairs to 12 US military veterans, one per month for each of its 11 locations in the Delaware Valley and one for its mobile glass repair business, GlassMax. Mr. Forney is the project's seventh winner. The company chooses the winner from nominations it receives from the public on the project's web site, http://www.metalofhonorproject.com. The company is now accepting nominations for a veteran from the Sicklerville, NJ area.
"The Metal of Honor Project is our way of saying thank you and honoring the men and women of our armed forces who put their lives on the line for all of us," said Jim Tornetta, CollisionMax and president and CEO.
In New Jersey, CollisionMax operates shops in Blackwood, Cinnaminson, Glassboro, Marlton, Pennsauken, Sicklerville and Westmont. In Pennsylvania, it has repair centers in Oxford Valley, Warminster and two in Northeast Philadelphia (both on West Grant Avenue). For information about ColllisionMax, please visit http://www.collisionmax.com.