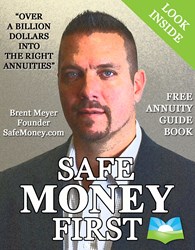 "Not all annuities are created equal and neither are the agents offering them"
SOUDERTON, PA (PRWEB) December 13, 2013
Investors interested in purchasing an annuity have a new resource to help them make better decisions. An easy to understand e-book is now available at safemoney.com filled with 32 pages of information on how to select the right annuity in which to invest.
The guide is presented by Safe Money Resource President and Co-founder Brent Meyer, a conservative retirement planning expert who has spent more than a dozen years helping investors make the most of their retirement income. The new guide comes at a time when more and more Americans are approaching retirement age.
"By the year 2030, nearly one-fifth of the U.S. population will be retired," Meyer stated. "The goal of Safe Money Resource is to help people take control of their finances through education and empowerment. Investing in annuities can be confusing, so we're offering this new e-book guide to help seniors buy the right annuity to secure their financial future."
The Annuity Guide To Better Decisions offers details on the five different kinds of annuities available, with easy-to-understand advice and graphics aimed at helping investors determine the best investment strategies based on their personal retirement goals. Many investors are looking to annuities to provide a pre-determined amount of income every month for the rest of their lives, Meyer explained.
"Annuities are offered by insurance companies, and not all annuities are created equal," said Meyer. "It is important to determine the pros and cons of an annuity before you invest. In today's world, an annuity can offer more stability in your retirement. It will provide a hedge against inflation, principal protection and can offer you the opportunity of a guaranteed lifetime income."
The e-book guide is just one part of Safe Money Resource's goal of helping people make smarter choices when investing for their retirement. The website was founded more than a year ago with the main objective of providing sound advice through a network of trustworthy financial advisors who have their clients' best interests at heart.
"The difference between Safe Money Resource and the big insurance companies is that we offer you the expertise and resources of the best independent insurance carriers across the country, not just the special interests of one company," said Meyer. "Safemoney.com showcases the best, most trustworthy advisors we have found around the nation and assists pre- and post-retirees by educating them on their finances and pointing them to the right advisor."
Since the launch of safemoney.com in October of 2012, Meyer has realized his goal of giving pre- and post-retirees a one-stop shop to find the nation's most trustworthy financial advice.
"All advisors have been pre-screened to ensure they work hard for the long-term financial safety and security of seniors, not for the commission," said Meyer. "The website provides everything pre- and post-retirees need to get started on the road to safe, secure financial planning."
"I work in the financial services industry and can't help noticing how the big, well-known companies are taking advantage of advisors and clients. After 12 years of witnessing tactics that were more in the best interest of the company's bottom line than that of the retiree, I knew I had to do something to help these people," said Meyer. "I realized there was a need in the market for a company that wasn't owned by any insurance carrier and wasn't influenced by the almighty dollar."
Safe Money is comprised of a small, independent group of licensed fixed-index annuity experts and gives information-seekers age 50 and older solid financial-planning resources on everything they need regarding financial safety, principal protection, retirement and income planning.
To get the free e-book on annuities, visit safemoney.com and click on the 'Free Guide' tab. Enter your information and e-mail address and the free guide will be sent to you in an easy-to-read PDF format. There is no obligation and all information entered remains private.
ABOUT SAFE MONEY RESOURCE
Safe Money Resource is a much-needed resource for the Baby-Boomer generation of retirees and is comprised of independent agents who are defined by their integrity, knowledge and ethics. Safe Money Resource operates on the belief that education is empowerment.