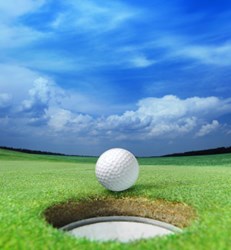 Umatilla, Florida (PRWEB) December 12, 2013
The Recovery Village is a sponsor of the upcoming Alliance for Eating Disorders Awareness Golf Tournament. The tournament, which will take place December 12, 2013, will raise funds for eating disorders awareness and treatment.
The Recovery Village will provide breakfast for participants at the beginning of the day. "The Recovery Village is pleased to be a supporter of this fundraiser," said Allison Kreiger Walsh of The Recovery Village. "The Alliance's work is beneficial for those struggling with eating disorders. The Alliance provides support groups, referral services, and educational programs all over the country to help put an end to eating disorders. We are proud to support this cause."
A highlight of the event will be the participation of LPGA golfer Beatriz Recari. This golf star has made a name for herself by finishing in the top five at her first LPGA competitions this year. Recari will be at the December 12 event to show her support for the Alliance and to lead a golf clinic for participants before the tournament. Recari has a special interest in working with the Alliance. She overcame her own eating disorder, and now speaks openly about her struggle, in the hopes of encouraging others to find help. Recari plans to be an ambassador for the Alliance, speaking around the country and taking part in events to help promote awareness for eating disorders.
The Alliance golf tournament will take place at the Fazio Course at the PGA National Resort & Spa in Palm Beach Gardens, FL. Registration includes greens fees, golf cart, continental breakfast and lunch, golf clinic with Beatriz Recari, golf bag, and team prizes. To learn more about the golf tournament, visit http://birdeasepro.com/beatrizrecarialliancegolf.
The Alliance for Eating Disorders Awareness is a non-profit organization that works to prevent and create awareness for eating disorders and other body image and self-esteem issues. Since 2000, the Alliance has worked as a support system, referral provider, and advocate for those struggling with eating disorders. It also provides training to health care professionals and education to the public.
The Recovery Village, located near Orlando Florida treats individuals with eating disorders, mental health disorders, and substance abuse disorders. Its staff takes a holistic approach to recovery, addressing and helping to heal all areas that are out of balance in the client's life.
To learn more about The Recovery Village, visit their website at http://www.therecoveryvillage.com/.