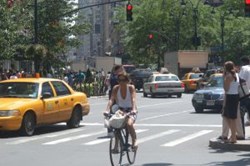 Report states that the bicyclist was crossing from the south side of Borden Avenue to the north side when a white commercial truck hit him as it attempted to turn from Maurice Avenue to Borden Avenue
New York, N.Y (PRWEB) December 13, 2013
A 54-year-old man suffered fatal injuries in a hit-and-run bike accident in Maspeth, Queens. According to a Nov. 29 report in the Queens Chronicle, the fatal bicycle accident occurred at the intersection of Borden and Maurice avenues the afternoon of Nov. 27. The report states that the bicyclist was crossing from the south side of Borden Avenue to the north side when a white commercial truck hit him as it attempted to turn from Maurice Avenue to Borden Avenue.
The vehicle fled the scene leaving the bicyclist unconscious on the roadway, according to the article. The victim was transported to a local hospital where he died, the report states. Police are still looking for the hit-and-run driver and the investigation is ongoing, according to the report.
When it comes to hit-and-run collisions, it is the injured victim and his or her family that pays the price, says New York personal injury lawyer Kenneth A. Wilhelm. "When the hit-and-run driver is not apprehended, the victims or their families are left holding the bills – be it medical or funeral expenses."
It is important for victims of hit-and-run accidents to remember that they have rights and are entitled to compensation, Wilhelm says. "If the driver is apprehended, he or she can be held criminally and civilly liable for the incident. If the hit-and-run driver was on the job at the time, then his or her employer can also be held liable. When the driver is not found, victims may be able to seek compensation through the uninsured motorist clause of their own auto insurance policies or through a quasi-state agency if there is no motor vehicle in the victim's household."
Victims or their families can protect their rights by seeking the counsel of an experienced personal injury lawyer who has handled similar cases, Wilhelm says. "The investigation in these types of cases can take many months. It is important that these victims and their families have a powerful advocate on their side who will fight for their rights every step of the way."
About the Law Offices of Kenneth A. Wilhelm
The Law Offices of Kenneth A. Wilhelm is a personal injury litigation firm with an unwavering dedication to its clients. With more than 42 years of experience, our firm strives to obtain the best compensation for those who have been injured or those who have lost a loved one due to an accident or by someone else's negligence. We handle cases dealing with personal injury, medical malpractice, wrongful death, train accidents, workers' compensation, dental malpractice, motor vehicle accidents, pedestrian accidents, rape, paralysis, comas, seizures, false arrest, lead poisoning, trips and slips and falls, falls on sidewalks or stairs, elevator accidents, construction accidents, Erb's palsy, cerebral palsy, brain damage, blindness, hearing loss, dog bite cases, fire and smoke inhalation accidents, bicycle accidents, falls from windows or scaffolds, food poisoning injuries, and many other types of accidents and injuries.
Please contact our New York personal injury attorneys TOLL FREE 24 hours a day, 7 days a week at 1-800-WORK-4-YOU (1-800-967-5496). WE CAN EVEN COME TO YOU. There is no attorneys' fee unless we recover money for you. We can also help with personal injury cases in New Jersey, Connecticut, Pennsylvania, or Florida. If you have been seriously injured in any of the 50 U.S. states, please call us and we will try to help you with your case.
Other TOLL FREE phone numbers for us are:
1-800-RADIO-LAW, 1-888-WYPADEK, OR 1-800-LAS-LEYES
The Law Offices of Kenneth A. Wilhelm
445 Park Ave, 9th Floor
New York, NY 10022
(212) 545-7373
Please visit us at: http://www.WORK4YOULAW.com