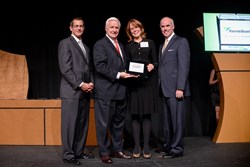 Having the right people is the #1 strategic pillar for accomplishing our objectives. Being among the Best Places to Work in PA provides proof that we created the environment to attract and retain the right people.
Harrisburg, PA (PRWEB) December 12, 2013
The awards program, created in 2000, is one of the first statewide programs of its kind in the country. The program is a public/private partnership between Team Pennsylvania Foundation, the Pennsylvania Department of Community and Economic Development, the Pennsylvania State Council of the Society for Human Resource Management, and the Central Penn Business Journal.
This survey and awards program was designed to identify, recognize and honor the best places of employment in Pennsylvania, who are benefiting the state's economy and its workforce. Employers are categorized based upon the total number of employees they have in the United States, 25 to 249 employees and 250 or more employees.
Companies from across the state entered the two-part process to determine the 100 Best Places to Work in PA. The first part of this process was evaluating each nominated company's workplace policies, practices, philosophies, systems and demographics. This part of the process was worth approximately 25% of the total evaluation. The second part consisted of an employee survey to measure the employee experience. This part of the process was worth approximately 75% of the total evaluation. The combined scores determined the top companies and the final ranking. Best Companies Group managed the overall registration and survey process.
About the JFC Staffing Companies
Disciplined on customer commitment, we work hard to gain the trust of our clients, helping them find their most valuable asset – people, while preserving their most precious commodity – time.
JFC Global with specialized recruiters who find hidden talent in the areas of Information Technology, Engineering, and Accounting/Finance.
JFC Medical who execute targeted talent search strategies for today's healthcare practices and institutions.
JFC Temps with Staffing Managers and Recruiters who deliver talent-on-demand in the areas of Office-Professional, Skilled Labor, and light-industrial.