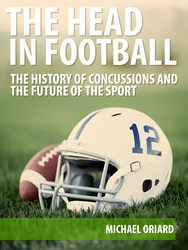 Venice, California (PRWEB) December 19, 2013
Concern over the issue of head injuries in football has rapidly become a part of a national discussion that threatens the future and character of the game at all levels, but especially in the professional arena. The National Football League (NFL), after years of ignoring or denying the problem, is trying to catch up to the public mood and preserve a $9 billion business. Parents and schools are fearful. How we came to this point in the development of football is the subject of former NFL player Michael Oriard's penetrating investigation of the physical and cultural aspects of the sport as they affect the role of the head - "The Head in Football".
In this new eBook published by Now and Then Reader, Oriard, who played football at all levels--high school, college, and professional--brings a unique perspective to an urgent subject. He addresses the current concerns over head injuries and takes an in-depth look at the physical, cultural, and medical aspects of the sport as they affect the role of the head.
"The Head in Football" is currently available exclusively as a digital download through Amazon Kindle Books, Barnes & Noble Nook Books, The Apple iTunes Bookstore, and Kobo Books.
Oriard is the author of seven books, including a football memoir, "The End of Autumn" and four volumes on the cultural history of American football. He wrote the script for the documentary film "Gladiators: The Uncertain History of American Football: which debuted at the Twin Cities Film Festival in October 2013.
The new digital title headlines a growing list of short-form nonfiction books published by Now and Then Reader, the publishing house co-founded by industry veteran Ivan R. Dee. Now and Then titles are quick reads, typically ranging from 5,000 to 25,000 words in length and focus on writings that are historically based. The company's list emphasizes original works but also includes excerpts from forthcoming books and reprints of material that otherwise isn't readily available for e-readers. Additionally, a selection of free eBooks is offered to accompany Now and Then's paid content.
Now and Then Reader's nonfiction titles and contributors are profiled on the company's website, at http://www.nowandthenreader.com. Previews of each title are available on the site and via the company's Facebook page, http://www.facebook.com/nowandthenreader.
For a review copy of "The Head in Football" or to schedule an interview with Michael Oriard, please contact Lindsay Bekken at (801) 618-2010.