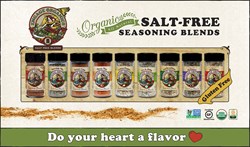 Kelseyville, CA (PRWEB) December 12, 2013
In an attempt to support the right to know what is in our food, Engage Organics Salt-free Seasoning Blends has partnered with the Non-GMO Verified Project to help educate and empower people about their food choices.
In recent years global awareness of GMO's has risen significantly. In fact, Wall Street Journal poll asked: "Do you think genetically engineered foods should be labeled?" An astounding 87% reported "yes."
However, GMO's are still a mystery to most people.
The Non-GMO Project is a non-profit organization committed to preserving and building sources of non-GMO products, educating consumers, and providing verified non-GMO choices.
The Non-GMO Project offers North America's only third-party verification and labeling for Non-GMO food and products. It works with food manufacturers, distributors, growers, and seed suppliers to develop a standard for detection of GMO's and for the reduction of contamination risk of the non-GMO food supply with GMO's.
Verification is maintained through an annual audit, along with onsite inspections for high-risk products.
Engage Organics Salt-free Seasoning Blends is committed to manufacturing organic, salt-free, Non-GMO, and Non-irradiated blends. The Non-GMO Project Verified seal indicated the product bearing the seal has gone through a certification process that ensures it has been produced according to consensus-based best practices for GMO avoidance.
Engage Organics Salt-free Seasoning Blends come in 9 varieties. Look for the Original All-Purpose with and without sesame seeds. Of course, the famous GarlicSaltless Blend makes the best garlic bread on the planet; while Tuscany-Mix puts zip into anything pasta. The Mexi-Mix is a sure bet for replacing those high sodium taco seasoning packets with real flavor instead of salt. And if you want a Starbuck's treat in your cup of java at home, try Sweet-Cinn and gain the cholesterol lowering benefits of cinnamon in a stir. Engage Organics Lemon Pepper is completely void of sugar and salt, which are the main ingredients in most Lemon Peppers. Engage Organics Lemon Pepper has pucker power and is flying off the shelves. Don't miss It's-A-Dilly, a cult favorite for salmon and beyond. And lastly, the new Go-Grill-A-Rub turns barbecue into bliss.
These salt-free seasoning recipes are the identical recipes that made each brand famous under the Parsley Patch label.
If you would like more information about Engage Organics Salt-free Seasoning Blends, go to http://www.engageorganics.com.
# # #
Media Contact: Pat Gage
Engage Organics Salt-free Seasoning Blends
707-387-0705