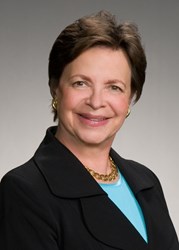 Denver, Colorado (PRWEB) December 12, 2013
Holland & Hart LLP is proud to announce that C. Jean Stewart has been elected as President of the National College of Probate Judges. Founded in 1968, the College stands to improve probate law and courts and is the only national organization exclusively focusing on probate matters.
The College elects its President from members of the Executive Committee who have served as a committee chair or officer over the preceding decade. Nominees must also be in good standing as a current or former probate judge, surrogate, registrar, referee, magistrate, commissioner or otherwise designated judicial officer exercising probate jurisdiction. As President Elect of the College, Stewart began her one-year term in November 2013. Her responsibilities as President include guiding the College in presentation of seminars, educational conferences and publications contributing to the efficient administration of justice in the probate courts of the United States.
Stewart has more than 35 years of experience in estates, trust and fiduciary litigation. She spent 16 years as the Presiding Judge of the Denver Probate Court. Before that, Stewart spent the first 20 years of her career as an estate planning and administration lawyer.
In her current practice, Stewart focuses on fiduciary litigation, as well as alternative dispute resolution involving complex estate and trust administration issues, wealth transfer disputes, will and trust contests, conflicts regarding fiduciary responsibility and liability and contested protective proceedings. She received a J.D. from the University of Denver College of Law, a M.A. from Ohio University and a B.A. from Clarion University.
About Holland & Hart
Holland & Hart LLP delivers integrated legal solutions to regional, national and international clients of all sizes.
Since its inception in 1947, Holland & Hart's more than 450 lawyers have consistently been recognized by leading national and international peer and industry review organizations for innovation and dedication to the practice of law.
For more information, visit http://www.hollandhart.com.