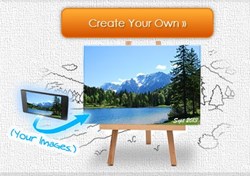 Putting a cherished photo on canvas is a great way to make the perfect, meaningful gift for your loved one - especially those who are impossible to shop for because they already have 'everything.'
San Diego, CA (PRWEB) December 12, 2013
A framed photo makes a nice gift, but those looking to step it up a notch have a new and easy option at the newly launched site, http://www.MakeCanvasPrints.com. Whether it's a wall art gift for a friend or a large wholesale order for a business, MakeCanvasPrints.com allows customers to easily and quickly turn a simple photo into a beautiful canvas print within minutes.
The company's revolutionary process prints directly on the canvas, creating beautiful wall art that will last a lifetime. Users can upload any image or browse through the site's customizable designs, and can create as many designs as desired. Users can even save their designs to their profile and share them with friends on Facebook or other social media sites for free. If the customer decides to purchase a canvas print, MakeCanvasPrints.com will ship it right to their door, ready to hang.
"Putting a cherished photo on canvas is a great way to make the perfect, meaningful gift for your loved one – especially those who are impossible to shop for because they already have 'everything,'" says Allison, a representative of MakeCanvasPrints.com. "Our canvas prints are beautiful works of wall art and turn heads every time. Every piece is unique because of the character of the canvas."
Although other canvas printing companies are very expensive, MakeCanvasPrints.com offers everyday low pricing without sacrificing quality. And it's very affordable compared to other options. "Buying a print, framing it and hanging it can get expensive and time-consuming. We simplify the process and allow you to design a canvas print that is delivered right to your door, ready to hang," Allison says.
To get started with creating a canvas print, users just need to select one of eight size options, and then use the easy design app to load an image in the template. There's no limit to how many designs can be saved. Visit http://www.makecanvasprints.com/canvas-prints/create/ to get started.
About MakeCanvasPrints.com
MakeCanvasPrints.com enables customers to create custom canvas prints for home, office, gifts and more. Users can upload pictures of family, pets, favorite photos from traveling, etc. We also have a gallery of high resolution images and scenery customers can choose from. Each canvas print comes stretched over a 2 inch wooden frame. It can be displayed as-is or framed. Custom sizes are also available – users can submit their inquiry through the our contact page. Visit http://www.MakeCanvasPrints.com for more information.